I had a slick, freeware utility program pointed out to me recently that really simplifies the Windows slipstream process: nLite. Slipstreaming is a process to take a version of the Windows installation CD, merging the newest service packs, and then creating an updated CD with which to install Windows. In addition to giving you a GUI-driven selection tool for merging service packs into a Windows XP, 2000 or Server 2003 installation, nLite allows you to pre-install device drivers, change some of the installed Windows components, and even tweak the user interface in advance. The "nLite" application can be found on the Internet at www.nliteos.com. There is also a Vista version of the tool available at www.vlite.net. nLite has some additional cool features such as being able to pre-configure user information, set passwords, and even pre-populate the Windows Product Key. It does not eliminate the requirement to activate Windows; those features only help if you want to create an updated Windows installation CD for setting up your system.
Acer Aspire One Test
I used nLite to create an unattended Windows XP Home installation CD complete with Service Packs 1a and SP3 (SP3 requires the system to have at least SP1 installed first and my Windows XP disk is the original silver holographic media ("SP0"). I added the device drivers I downloaded from the Acer site and pre-disabled items like Windows Messenger and some other items I usually remove early in my configuration process. Starting the system with the bootable Windows install CD burned from the ISO file, the setup program asked where to install Windows (allowing me to delete the Linux partitions from the 8GB SSD) and then asked for the owner name and company. The rest of the process completed without any further intervention on my part. When I checked the final installation, it showed Windows XP Home SP3 in the System information, and the Device Manager list was clean of unknown hardware devices.
Here's an overview of the process:
The welcome screen lists the version and what OS is supported.

After pointing to the Windows source media and a destination directory, select which options to include as part of the "wizard" build process.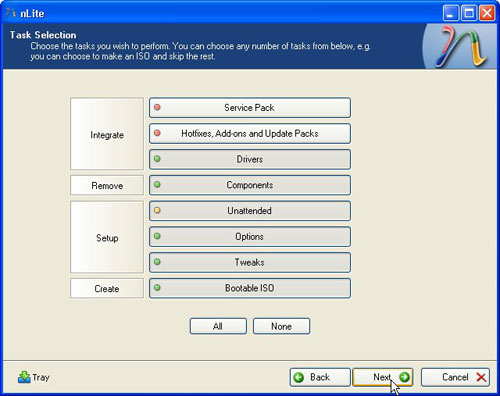 Download the Network Install Service Packs and have nLite slipstream them into the install image.

Download device drivers and extract to directories. Have nLite search the entire directory structure for driver versions to install. You only have to select drivers that are OS version specific.

You can have nLite remove Windows features so you don't have to go back and use add-remove programs after the basic install is done.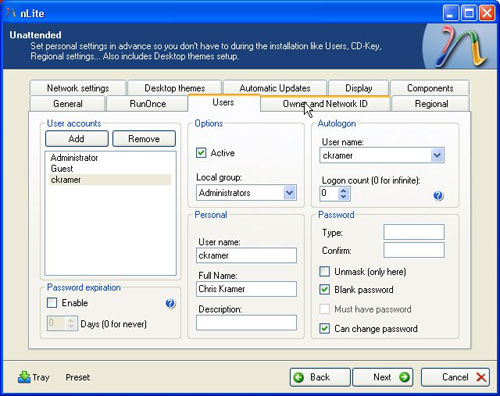 nLite has a screen to configure themes, display options, and even add your user logins and passwords up front.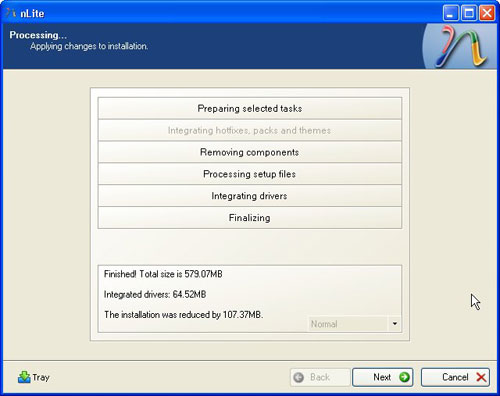 nLite takes all of your changes and creates a collection of files for the install media and creates the necessary script files for installation.

nLite can burn media from this window, or build an ISO image file for you to burn later. Use Nero, CD Creator or other software to burn the ISO file to appropriate optical media. Boot the resulting CD just like your original Windows Media. You still must provide a product key (either pre-populated using nLite, or when prompted during the install if you left it blank), and you still must activate Windows normally.
Reminder: This is not a Microsoft product, and Microsoft does not support this or even traditionally slipstreamed media. If you have problems, work through the nLite user groups to try to resolve them.
Resources
www.nliteos.com
www.vlite.net