When you build a new system, you can choose exactly what goes into it and what components or features you really want. For example, maybe you want a small form-factor PC that could sit in an entertainment center, or perhaps an open case for when you're building a configuration, or even a case with water cooling built-in. Case manufacturers do listen and it shows in some of the specialty cases you can get with many of these features designed in. Unless you have some really unusual needs or like to create or mod your system, some of these off-the-shelf case solutions may be just right for your next upgrade or system build.



Thermaltake's DH101 Digital Home Series Media PC case

Home Theater PC (HTPC) Cases
These system cases come in a variety of shapes and sizes, but many will accept ATX or micro-ATX system boards and usually include some built-in features for remote control or to display status. One example of an HTPC case is the Thermaltake DH101 Digital Home Series Media PC Case with Built-in Media LAB LCD & Remote. The design of the case is similar to a stereo system unit and might be installed near your TV or entertainment center shelving. The built-in LCD display can be configured to display system information and media center activity, and the remote control supports most media center features. The front panel includes ten programmable hot key buttons and a large volume control dial that controls the bundled Media Lab software or Windows Media Center.

Windows Media Center first appeared with a specialized version of Windows XP, and included the multimedia application of the same name to provide a single intuitive interface for viewing pictures, music, video, and television recording and playback with one or more supported TV tuner cards. Windows Vista includes the Media Center application with Vista Home Premium or Ultimate versions. Manufacturers created similar all-in-one applications that provide much the same functionality and are usually bundled with their TV tuner card. Many of these cases also include some sort of remote control and receiver, using either infrared or radio frequency wireless, to navigate the application menus.

Uncase Cases (AKA test beds)
If you have need for a test bed where you can easily connect devices for testing or are just into the deconstructive look, there are open platform test frames like the spiffy-looking Antec Skeleton ATX Open Air Case. The Antec Skeleton case provides front panel switches, LEDs and even USB, Firewire and eSATA ports, while an oversized top-mounted LED fan keeps things running cool. Sliding trays and removable panels simplify access to the components, but you will still need a screwdriver to anchor things down. As a rule, open-bed case designs are intended to make swapping pieces and parts a bit easier. In the case of HighSpeed PC Tech Stations, (either the Top Deck Tech Station or the "original" Tech Station Black Work Bench), you will need to supply your own front panel connections since there is no "front panel" (or side panels, either). I prefer the original version myself, since this places the system board up on top, and lets you stack the drives and power supply underneath. The original version reverses this, which is okay if what you are swapping are drives, but I am usually using the same drives and power supply, and need to swap different system boards, video cards, etc. in and out.
| | |
| --- | --- |
| Antec Skeleton Open Air Case | HighSpeed PC Tech Station |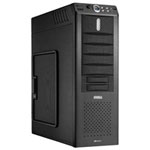 Gigabyte 3D Mercury Pro Liquid-cooled Tower Case

Water Cooled
If you want a liquid-cooling solution without the fuss of having to drill holes, install pumps, reservoirs, and all that other mechanical stuff, check out the Gigabyte 3D Mercury Pro Liquid Cooling Full Tower. This case comes with a built-in liquid cooling system including the pump, radiator, tank set, and CPU water block.

Entertainment or Multimedia Cases
Based on mid-tower formats, these cases are a bit more "traditional," but incorporate features that may provide some HTPC functions. For example, the Thermaltake Mozart TX Entertainment Center features a seven-inch bay where you could install one of those in-dash DVD players or pop-out LCD screens. This is a double-wide "cube" case that has room for two system boards (one ATX/BTX and a mini-ITX). It also has more than enough room to add liquid cooling internally and has pre-drilled holes to pass up to four 19mm tubes out to external radiators or a cooling tower.

The GMC K-2 Ebony case (coming soon) integrates an iMon digital display with Infrared remote control and front-panel multimedia hot keys, a built-in card reader, an LCD temperature monitor and fan control unit. Control and information display panels like the iMon are available as drive-bay inserts and can be installed into an existing system or new build.
| | |
| --- | --- |
| Thermaltake Mozart TX Case | GMC K2 Ebony Case (coming soon) |
Of course, if you want something totally unique or a one-of-a-kind in a case design, you're going to have to build or modify it yourself... but then, that's another article -- check back next month for a new example.

• Get Random Access

• Understanding Tech

• Print this article

• Shop Online