The best tip I can give you to become a better photographer is to get out and shoot more. No, more than that. Shoot a lot. When I go to an event or destination I shoot 300 to 400 pictures in a session (isn't shooting digital sweet?). Of those shots, only about 10% are really worth showing off. What's the best way to find the diamonds amongst the rocks? In this article I'll share my workflow and show off some software that will help you find your own gems.
When I get back to my computer after a shoot, I copy the images from the memory card into their own folder on my hard drive. The very next step is to back up all the photos to DVD. This way I don't forget to do it later. Next, I import my photos into Adobe Photoshop Lightroom. Lightroom is a photography toolbox for managing, adjusting and publishing large volumes of photos.
Finding Diamonds
Half of a photographer's workflow revolves around finding the best photos - or candidates that could be better with a few adjustments. Lightroom is split up into modules that accomplish a loosely sequential set of workflow tasks. The first is the Library module which is used to import and organize photos. Once my photos are imported, Lightroom gives you several ways to separate the good from the bad. I make a first pass and reject any photos (by selecting a photo and hitting the X key) that have been so over- or under-exposed that they are beyond help. Then, I go through and rate the photos on a scale of 1 to 5; 1-2 are ones that I will probably not use, 3s show possibility, 4s show promise and 5s are definitely good to show. When I have several similar photos, I use the Compare mode to see several photos side by side so I can choose the best of the group. At this point I can use Lightroom's filters to only show photos rated 3 or better. Another way to choose the better photos is to add any selected photo to a Quick Collection (by hitting the B key) which can be used to gather otherwise unrelated photos.
Sorting through photos in Lightroom is easy.
Polishing
After I get a subset of my original photos, I go into Lightroom's Develop module. Here can I make non-destructive (changes don't affect the original file) adjustments that can make an okay picture into a great photo. Almost anything can be adjusted in this module including white balance, exposure, brightness, contrast, vibrance, saturation and lots more. While there are enough adjustment options to fill an entire article, I try to do as little as possible to the colors. The one thing I am aggressive about in the Develop module is cropping and composition. One of the luxuries of the high megapixel count in today's digital cameras is that I can crop much more and still have a nice, big image. I try to crop out everything but the most important aspects of the subject. Post-process cropping also lets me fix composition errors I missed when taking the photo, and I can take my time and get the composition right.
In the Develop module you have a myriad of controls at your fingertips.
Showroom
Once I have my perfect set of photos to show the world, Lightroom offers three modules: Slideshow, Print and Web.
Slideshow allows you to customize the slide background, overlay, text and other options to show your photos on your computer. You can also export the slideshow as a PDF or individual slide images.
The Print module gives you total control of how your images are printed. You have the flexibility to print one per page, a contact sheet, or you can print picture packages (like you would get from a studio).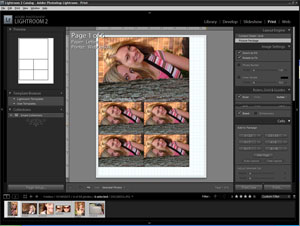 Print as a picture package. This layout has a 7 x 5 and four 2.5 x 3.5 prints.
The Web module creates dynamic slideshows and image browsers for easy integration to any website. The built-in display engines offer HTML or Flash viewers that do all the heavy lifting (code-writing) for you. Simply select your photos, a gallery type and set a few options (titles, colors, etc.) and click Export...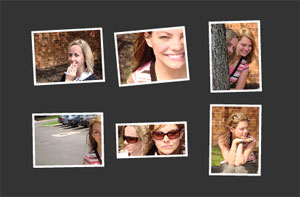 A Flash web gallery created by Lightroom
Lightroom is available in a hybrid Windows/Mac version. For you Mac users out there, Apple offers Aperture which includes many of the same features as Lightroom for 1/3 the price. With these programs you can spend less time managing and processing photos and more time shooting... so get out there!