Now that warmer weather is here, it's time to hit the road or the airport to visit the family, beautiful parks or favorite vacation spots. But vacation doesn't mean you have to leave your computer at home, nor should you. A well-equipped notebook can fill many roles while you're away from home. Outfit your notebook with these travel essentials.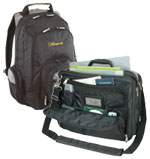 Notebook Case
Each person has different needs when it comes to carrying their notebook. Choose a case that has all the compartments you'll need for papers, CDs, an AC adapter, mouse and accessories. If you plan on flying, you may want to choose a case you can carry on with you that has extra compartments for medications, identification and other non-replaceable items. For the photographer, there are backpacks that store your notebook as well as your camera, lenses, flashes and other accessories. Some cases are more suitable for trekking up mountain paths while others are more at home in boardrooms. Keep in mind where you'll be taking your notebook when deciding on a style.

Digital Imaging
It's tradition to take lots of photos while on vacation to capture memories, embarass friends & family, etc. However, you're limited to what you can do by your camera's memory card or internal capacity. Instead of buying multiple memory cards, copy images from your memory card to a hard drive so you can keep on shooting. If your notebook doesn't have a built-in card reader, USB versions are inexpensive and are usually very compact and ideal for traveling. Similarly, you may have only one tape for your digital camcorder but hours of video yet to capture. You can download your video to your notebook and reuse your tape.
Shop memory cards
Shop memory card readers

GPS
You don't want to get lost when you're trying to have fun. There are several GPS solutions for notebooks. A GPS receiver connects to your notebook's USB port or wirelessly via Bluetooth. The receivers are also small and easily fit into a carrying case. The included travel and map software lets you plot your course for the quickest, most scenic or most points of interest.
Shop GPS software with receivers
Slingbox
This device is something you leave at home so you can watch home television from any net-connected notebook. It's great for keeping up on your favorite shows or your favorite teams. The Slingbox Solo gives you the basic functionality of controlling your home TV and watching it remotely. The Pro version lets you control four inputs including satellite or cable box or DVR.
More about Slingbox
Shop Slingbox
So get out there. Remember, always keep your antivirus program up to date, back up your data, take sunblock and don't drink the water.

• Get Random Access

• Understanding Tech

• Print this article

• Shop Online