If you are experiencing slowdowns in your system, it may be due to additional processes running on your system. This can be caused by unnecessary software or even malware monopolizing processor time and reducing speed. In order to verify which processes are necessary, check the current services functioning on your computer through a system utility manager.
Windows XP/Vista
To view system processes in Windows XP, press Shift + Control + Delete. For Windows Vista, press Shift + Control + Escape. In Windows Task Manager, click on the Processes tab to reveal all of the currently operating programs and their allocated memory. Several of these processes are required for the Windows operating system to function, but others may be unnecessary or even unauthorized programs. Here is a basic list of core processes to check from: (Note: These processes may vary in different versions of Windows. Check Microsoft Support before shutting down any program. By disabling an essential process, your operating system may become unstable.)
| | |
| --- | --- |
| Process Name | Function |
| wuauclt.exe | Microsoft automatic update manager |
| alg.exe | Windows Internet connection and sharing |
| svchost.exe | DLL process manager |
| ctfmon.exe | Microsoft Office Suite process |
| vttimer.exe | Drivers for chipset |
| spoolsv.exe | Windows operating system printing spooler process |
| lsass.exe | Microsoft Windows security component |
| services.exe | Microsoft Windows operating system component |
| winlogon.exe | Windows login manager |
| smss.exe | Microsoft Windows operating system process |
| snmp.exe | Windows network processes |
If you find a program that you want to stop, select the process and click the End Process button at the bottom of the window.
In addition, you can disable programs from launching during startup through the System Configuration Utility. To get to the Utility controls, go to Start -> Run. In the dialog box, type in msconfig, then click OK. In the menu, select the Startup tab. Uncheck any programs that aren't necessary, then click Apply. The System Configuration Utility asks to Restart your system to activate the changes. Repeat the same step under the Services tab to quit any unwanted programs.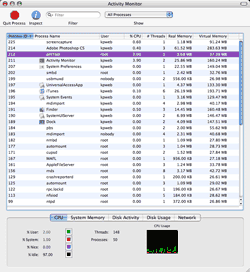 Mac OS X
For the Mac, you have a similar utility to manage your system's processes and applications called Activity Monitor. This program is found in the Applications > Utilities folder. Like Task Manager, you can review your Mac's system memory, disk activity, usage and CPU processes by clicking on the appropriate tab at the bottom of the control panel. To quit a process, select the name, then click the Quit Process button. You can also check the statistics for a particular process by selecting the process name and clicking on the Inspect button. Here is a list of common Mac OS X functions: (Note: These processes may vary depending on the operation system version. Check Apple Support before disabling any process. By disabling an essential process, your operating system may become unstable.)
| | |
| --- | --- |
| Process | Function |
| launchd | Startup system program |
| UserEventAgent | Plugin and system response manager |
| mdworker | Metadata server process |
| ATSServer | Apple Type Solution |
| loginwindow | Display login screen process |
| SystemUIServer | Maintains menu items process |
| pmTool | Activity Monitor process |
| configd | Configuration information manager |
| automount | Controls network file system mounting |
| notifyd | Even notification process |
References:
Apple Support
Microsoft Support: How to use Windows Task Manager
UniBlue Process Library

• Get Random Access

• Understanding Tech

• Print this article

• Shop Online