Back in 2005, I reviewed how to set up your own security system using a Swann Commuincations monitoring system. Since then, Swann has offered a new line of security products incorporating new features such as DVR. The Swann DVR4-Pro-Net Combo Kit provides a complete home or small business monitoring package including 4 multi-function cameras, color LCD monitor and DVR unit. This kit can provide up to 55 days worth of recording plus Ethernet to connect to your computer for online monitoring.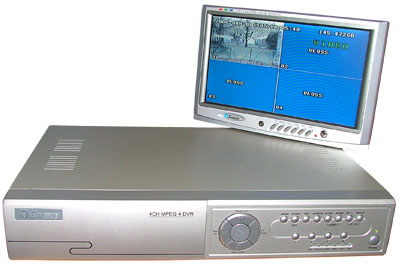 The DVR unit provides all of the necessary components to run the monitoring system effectively. Supplied with a 160GB hard drive, the DVR can manage NTSC at 720 x 576 pixels, and the unit can be expanded to support over 400GB in capacity. Recording mode can be set at best, high, normal or basic quality for optimal playback with up to four attached cameras. The software provides a split view to check each camera separately or move to full screen mode for closeups. With the Ethernet connection, you can configure the system to send alert messages via email to monitor offsite.
An added bonus is the upgraded monitor, a color LCD flat screen for better picture quality and efficiency. It comes with a built-in loudspeaker or earphone option for audio alerts. You can easily switch back and forth between TV and AV mode. Plus, the system comes with a remote control to wirelessly flip between cameras and adjust settings on the DVR unit.

The cameras are multifunctional for indoor/outdoor use for day or night. Designed with 24 LED infra-red lights, each camera is equipped with a 1/4" SuperHAD CCD for the best color picture quality. They also have auto on/off, motion-sensor and up to 2x zoom capabilities. The cameras come with optional shields for protection in outdoor conditions and the swivel base comes with mounting hardware. With 60ft of cable, the camera has enough cord to reach multiple levels from the DVR unit.
For testing, I set up the DVR4-Pro-Net Combo kit in my house to monitor my backyard. It took about 15 minutes to assemble and connect the camera and monitor to the DVR. I was impressed by the color picture quality and zoom feature when adjusting the camera for the best line of sight. It was convenient to have a separate monitor available that I could check periodically or set up with an alert if motion was detected.
For home security neophytes, Swann has also included some DYI security videos to get you started. The tutorials help explain the basics of home security and how to set up the system. Plus, Swann provides a product tour demonstrating the various applications for home and business use.
Shop:
Swann Communications DVR4-Pro-Net Combo Kit
Reference:
Swann Communications