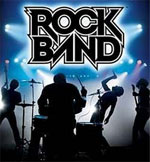 Back in 2005 the console music genre was kick-started into high gear with Guitar Hero, using a small guitar controller to rock out to your favorite music. Now we have the natural progression: Rock Band. It combines all the fun of singing karaoke, playing rock guitar and bangin' the drums on the way to becoming a legendary rock band.
You and three of your friends create a virtual band, including highly customizable on-screen avatars. Your band then goes on a world tour to 17 cities, selling out huge venues, earning cash and recruiting fans (if you play well). The cash can be spent in the Rock Shop to buy better or more elaborate outfits, change your hair, clothes, tattoos, makeup, and get cooler instruments.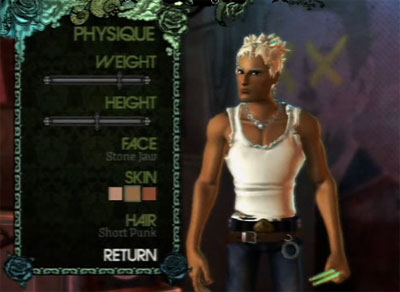 Become your rock & roll alter-ego!
There are also Solo Tour, Quickplay and various head-to-head modes but the Band World Tour mode is where the fun really is. The real appeal to Rock Band is getting your friends together and rocking out!

Guitar controller




Drum set

Instruments
The Rock Band Special Edition Bundle includes a three instruments: a guitar (used for lead or bass), drum set and microphone. To have a four-person band you'll need to pick up a second guitar. Any compatible guitar for your console that (most Guitar Hero and compatible guitars) will work.

The Fender® Stratocaster®-inspired guitar you get is larger and more realistic, thus better suited to adult players. It has the five fret buttons at the top of the neck as well as five smaller fret buttons closer in. These special fret buttons are "finger-tapped" (used without strumming) during solos and Big Rock Endings. A five-way switch controls the sound of your guitar during Overdrive including flanger, wah wah, echo, and chorus. Note: the guitar included in Rock Band won't work with other games. That's too bad because I prefer this guitar over the ones included in Guitar Hero.

The drum kit includes four rubber drum pads and a kick drum pedal on an adjustable stand. You get real drum sticks to keep the beat. In the center of the drums is a control pad and buttons to navigate in-game menus.

The included microphone has good heft to it, feeling like a real mic. The mic is also used as a tambourine or cowbell during some songs by tapping the top. If you want hands-free operation (to play guitar or drum and sing at the same time) you can use a USB headset mic or the XBOX 360 console headset.

Gameplay
Rock Band is similar to other rhythm-based games in that you need to keep pace with the song while hitting the right notes. This is especially true for the guitarists and drummer. Meanwhile, the singer has to match the pitch of the song, not necessarily the lyrics. This is similar to Karaoke Revolution's gameplay. This is a good thing for me since I sang R.E.M.'s Orange Crush chorus as "I got my Sprite, I've got my Orange Crush."

Play the right notes or hit the right beats and you get score multipliers and Overdrive (like Guitar Hero's Star Power). Guitarists raise the neck of their guitar to activate Overdrive while drummers hit the correct note at the end of freestyle fill portions. Overdrive for singers is activated by singing ad-lib lyrics during freestyle.

When playing as a band, each member must do well to succeed. If a member does poorly enough to fail, another member can "save" them by enabling their Overdrive (though each member can only be saved twice). And while missing a few notes isn't a big deal on guitar or when singing, if the drummer doesn't keep up with the beat, the whole band gets off-rhythm.

The screen is split into four areas, each with their own scrolling notes. The left and right areas are for lead and bass guitar, the center is the drummer. The top row is where the lyrics scroll across the screen. While playing you can really only focus on your performance because the notes come fast and furious.

The screen is wild with activity
Songs
The soundtrack runs from classic rock to metal to Southern rock to punk and everything in between. Some of the 45 songs include "Dani California" by Red Hot Chili Peppers, "(Don't Fear) The Reaper" by Blue Öyster Cult, "Dead on Arrival" by Fall Out Boy, "Enter Sandman" by Metallica, "Here It Goes Again" by OK Go, "Maps" by Yeah Yeah Yeahs, "Learn to Fly" by Foo Fighters, "Mississippi Queen " by Mountain, "Wanted Dead or Alive" by Bon Jovi, and "Black Hole Sun " by Soundgarden.
If you get bored with those songs or the 13 bonus songs unlocked during gameplay, there is a constant flow of downloadable songs from Xbox Live or the PlayStation Network. Songs can be purchased individually, or as a part of a song pack. Sometimes there are even free songs available.
Pick up Rock Band and invite some friends over for hours and hours of fun and rocking gameplay.
Shop:
Rock Band Special Edition Bundle (Xbox 360)
Rock Band Special Edition Bundle (PS3)