You may have heard the term "cookie" referred to when working with your Internet browser. A cookie is a piece of text stored in your browser that is unique to you. Cookies are mostly used for authentication (verifying usernames and passwords), tracking activity, site preferences and shopping cart contents within a single website. A cookie may contain personally identifying information (name, address, etc.) that you have supplied to a website so it is a good idea to clean out your browser cache on a regular basis.
To clean your browser cookies, do the following:
In Firefox, go to Tools -> Clear Private Data or use the key command Control + Shift + Delete. In the menu, look to see if box besides Cookies is checked, then click Clear Private Data Now button to erase.
In Internet Explorer, go to Tools -> Internet Options. Under the General Tab, click on the Delete... button for Browsing History. In the new window, click on Delete Cookies... button, then click OK on the pop-up window to confirm.
In Safari, go to Safari -> Preferences. Click on the Security icon, then the Show Cookies button. Either select Remove All to erase all cookies, or choose a single cookie to remove. Click Done to finish.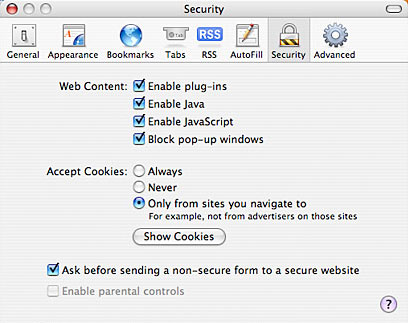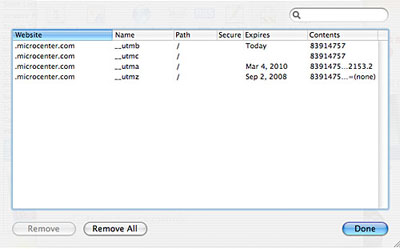 Reference:
Microsoft Support
Mozilla
W3Schools