Microsoft Windows Vista has been on the retail shelves for just more than a year now, and if you bought a new computer during the last year, odds are that it came with some flavor of the Vista OS. Magazines and web logs have been full of suggestions and tips, many of which appeared in the first month or two of release. The tips and tricks that were offered might be organized into two main groups, those that make Vista look and act more like Windows XP, and those that showcase new features and advantages included in the new release.
There are loads of possible tweaks, hacks, and suggestions on how to personalize or "improve" Vista's configuration. What I want to offer instead, are ten features or settings that I find to be especially useful. By the way, for some of you hardcore XP users, many of these "tweaks" have an XP equivalent. Turning on the run command in the start menu might be considered a "tweak," but it's not really new. This same choice appears in the XP customize options of the Start Menu Properties. Some changes are new under Vista, or there may be some new twist that Vista's increased security features may create.
Showing the "Run" command is one of the customizable settings in Windows XP or Vista
Most tweak lists include a "How to disable the User Access Control" feature. While I find the nags annoying, they are still active on my home system because of the added level of security it provides in Windows and Internet Explorer. The security features in Vista are there for one reason, to make it more difficult for malware to enter and spread on your system. It doesn't mean that the security features like User Access Control will prevent programs from running, and if they nag so often that you automatically accept the risk to run or install an unknown program, then it's no different that not using the access control feature at all. On the other hand, if you get a nag when you are not trying to run or install a specific program, or were in the process of changing a file or Windows feature, then it's probably worth reviewing the message before clicking "OK."
#1 - Compatibility Mode
Just as with Windows XP, Vista includes a feature in the properties tab to use compatibility mode to run or install programs. The trick is to remember to try it when you have problems installing or running an older program. This same tab includes a checkbox that allows you to run the application in administrator mode as well. This could be important if the setup program is trying to add or modify registry settings. - For an install process like this, I turn it on. For example, if you wanted to open a Command Prompt window with administrator access, create a new shortcut to CMD.EXE, or copy the existing one, and then right click to select "properties." Add a check to the box next to "Run as Administrator."
A real-world example would be making a "legacy" (a genuine antique in computer terms) scanner and Twain software work: I still use my SCSI Microtek IISP flat bed scanner with an old version of the ScanMaker software. (When I purchased this scanner new, Windows 95 was shipping.) First, I had to find a SCSI adapter that Vista would either recognize or that I could push the old XP driver support in. My older PCI Adaptec cards did not have Vista driver support, although the Vista update service came back with new drivers about a week after I installed a Siig brand SCSI adapter. Once the scanner is connected to the SCSI adapter, Vista will detect the hardware during a hardware refresh in Device Manager. I never did find scanner driver support under XP, and Vista is no different, so the trick is to let it look, and then make sure that the checkbox for "never check for drivers" is in place before clicking on "Finish" at the "Cannot install this hardware" window.
Just as I found when installing it under Windows XP, the trick is to install the ScanMaker (Twain) software in compatibility mode for Windows NT. If you just try to install it, it will assume the system is a Win9x environment and create DOS-level ASPI driver lines in the autoexec.bat and config.sys file -- which neither XP nor Vista will bother to look at. When the scanner software tries to directly access the non-existent DOS driver, XP promptly blue-screens and reboots (I didn't even try to test this under Vista). Downside: Vista's Camera and Scanner Wizard will not see the device, and there are no scanner drivers that make it show up in device manager (you will find it listed in "Other devices"). But when using programs that do support Twain scanners, the scanner software application will launch and run fine under XP.
However, under Vista I encountered a new problem (remember, I mentioned "twists" created by Vista Security features). When launching ScanMaker from inside Corel (formerly Jasc) PaintShop or Photoshop Elements, the application generated an "Error accessing the Twain device." Suggestions include reinstalling the software and verifying that the Twain application and directory exists. I traced the problem to the C:\Windows\Twain32 directory where I found that all the correct files exist, but the subdirectory that is created during scanning did not. This is not something that is created during installation, but that is updated as a temporary work directory when the program runs. Vista restricts much of the Windows and Programs directories, not allowing access to change things by your average user. To correct this, I used a brute-force approach to modify the twain32 directory's security settings. I had to first "take ownership" of the Twain32 directory, and then change security levels so that the listed user and system accounts had "full access," allowing the system, application, or users to be able to change the contents of this directory at any time. Once the new file security access was changed, the old ScanMaker software ran fine.
#2 - Application Volume Levels
Don't you just hate it when the commercials are louder than the TV program you're watching? Well, even Windows Media Center can't help with that, but Vista does give you a way to "pre-set" the volume level of individual applications that play sounds. Open the application you want to adjust the default volume level for, and then click on the speaker icon down in the system tray (you can also right click and select "Open Volume Mixer" - which is the default action to a left click). You should see the master "Device" volume on the left, and one or more "Applications" volume controls on the right. A thin line running across the control shows the application level relative to the Device master level, and will bump the master level up if you try to increase any of the application controls higher. The advantage is that you can set the volume of a game or the Media Center volume up high, but play Windows Sounds, like new mail dings or other notifications at a reduced volume. You can even turn the sounds in your favorite mini-game off, to keep the people around you thinking that you are still working on that business plan.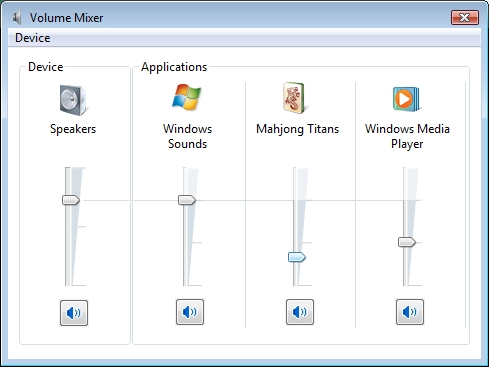 #3 - Auto Logon
One thing that drove me nuts with Vista was that I always had to log in to my home computer, which no one else was going to be using or have access to. This is really a security feature, just like asking for a login after the system exits standby or quits a Screen Saver. If you really enjoy logging in multiple times during the day, or have problems with other people messing with your computer when you step away, then you might want all of these features enabled. On the other hand, my computer is at home; I am the only one that ever uses it; the computer is on 24/7 and even has an oversize UPS to keep things running for hours during a power failure. If the computer does reboot, either due to a power loss or to something like Windows Updates, then I want the system to return to the desktop, and to launch any of my default programs like the X-10 light control, email, and most important - my Media Center DVR feature. Granted some things might still run and work fine even when sitting at the login screen, but after all, it's the principle of the thing. To enable the auto-login feature, do the following:
Click on Start and go to Run. If run does not appear, right click on the start button and select properties. Click "Customize" and scroll down to "Run command" and add a checkmark to the box. Click OK to save your change.
Type netplwiz and click OK.
Click OK to allow the application to run. (User Account Control)
Uncheck the box at the top that says "Users must enter a user name and password to use this computer."

Click OK.
An automatically log on window will open. Type the user name that you want to automatically log into and type the password in twice (once in the password field and once in the confirm password field).

Click Ok.
The changes will take effect on the next reboot.
#4 - Select files with checkboxes
Yes, you can select a file and while holding the shift key, click on another file to select all files in between. Or you can hold the control key down and click on one file or select a couple of files at a time, or, you can just mouse click on a checkbox in Vista. To use check boxes to make selections, do the following: In the folder view window, click on "Organize" and select "Folder Options." Click on the "View" tab, and then scroll down the list until you find "Use check boxes to select items." Add a checkmark in the box and click OK. I find this really handy when selecting a batch of files in a directory to rename, copy, move, or delete. A "side effect" is that it also adds check boxes to other things like desktop shortcuts. It makes sense, since you might select one or more of these objects for similar reasons, but I still find it weird when you click on one.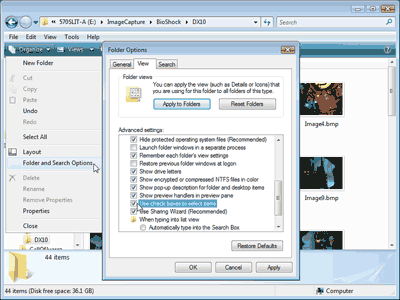 #5 - Even More File Details
When viewing a folder in "Detail view," you can right click on the header bar and select "More..." to see a list of all the different details that are possible to show. It doesn't mean that all of your files will have this data, but you might be surprised what does exist, especially in things like media files. Even under Windows XP, the amount of camera information stored in the individual image files is impressive - I count 38 possible options in XP's file detail list. If I counted right, Vista expands the supported metadata offering to at least 267 detail fields, many which are unique to specific file types like email, video, audio, etc.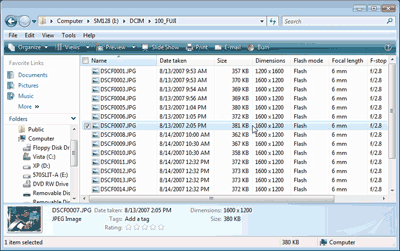 With that many new fields to choose from, the easiest way to see if there is additional detail to view is to right click on one of your files and select "Properties" from the context menu. Click on the "Details" tab and scroll through the list to identify the field names containing data.
Digital Camera image file details under XP and under Vista.
Different cameras will store different amounts of detail in the file header.
#6 - Quick-Launch Hot Keys
Windows Vista still has the Quick Launch tool bar located next to the start menu. Just as with earlier versions of Windows, you can drag your own shortcuts to the toolbar to make frequently used programs launch with a single click. What is different with Vista is that the icons in the Quick Launch toolbar now have an automatic "Hot Key" assigned for a quick keyboard launch. When you tap the "Windows" key on the keyboard, the start menu normally opens, however, if you press the Windows key along with one of the number keys (1, 2, 3...8, 9, 0), it will start a Quick Launch application instead. The number used for the application is simply the order it appears on your Quick Launch bar. Press and hold the Windows key and then press 1 to launch the first icon, 2 for the second, 3 for the third, and so on. These seem to work even when the Quick Launch toolbar is not visible such as when in a game, full screen view of a program, or have the Quick Launch menu bar "collapsed." In addition to the number keys for the Quick Launch, there are some additional key combinations available:
| | |
| --- | --- |
| Windows - D | Display the desktop (hide or show open windows) |
| Windows - E | Open a "Computer" window showing your drives, etc. |
| Windows - F | Open a Find (search) window |
| Windows - L | Log Off the computer to the Welcome screen |
| Windows - M | Minimize all open windows |
| Windows - R | Open the Start Menu Run Command, even if is not configured to appear on your start menu |
| Windows - U | Open the Windows Ease of Access Center (User Access) with settings for magnifier, text-to speech narration, on-screen keyboard and high contrast viewing schemes |
| Windows - spacebar | Display the Windows Vista Sidebar |
| Windows - break | Open the system properties window |
#7 - Windows Explorer Menu Bar
The Menu Bar (File, Edit, View, etc.) is hidden by default in Vista. You can make it appear by tapping the "Alt" key once. Tap it again and the menu goes away. If you want it displayed all of the time, Click Organize, Layout, and select "Menu Bar" to toggle it on or off.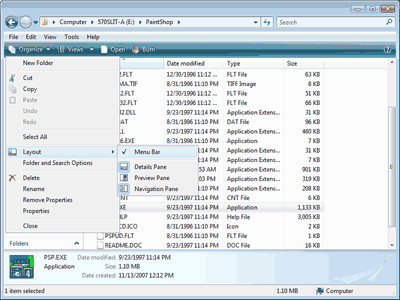 #8 - Windows Snipping Tool (Screenshot utility)
You can find the new Snipping Tool buried in the Accessories section of the Vista Menus (Start, Programs, Accessories, Snipping Tool). If you right click on the icon and drag it to your Quick Launch toolbar, you can quickly access it using the [Windows] #key trick mentioned earlier. The Snipping tool won't work for capturing video shots and a couple of other things, but for screen shots of the desktop, an application window, or part of your screen to grab most still images, it works just fine.
#9 - Open Command Window Here
In Windows XP, this feature could be installed as one of the XP Power Toys. Under Vista, it's built in, but not visible when you just right click on a drive or folder location. To see the option, hold the shift key down before right-clicking on your target. If you want to have the option available all of the time (without shift-clicking), it takes adding a couple of keys to your registry. (This does not turn the option on, it actually adds a new option to the context menu in XP or Vista. If you press the shift key after the change, you should see two choices to "Open a Command Window".) For the registry change:
Start, run regedit
locate the key: HKEY_LOCAL_MACHINE\Software\Classes\Folder\shell
in the right window, right click and select New->Key
name the key "CommandPrompt"
double click on the "default" entry in the right window and change the value to "Open a Command Window Here"
Select the new CommandPrompt key
in the right window, right click and select New->Key
name the key "Command"
double click on the "default" entry in the right window and change the value to "cmd.exe /k pushd %L"
Exit the registry editor.
If everything is correct, you should have a new option in your right-click context menu when exploring your computer drives or folders.
#10 - Mouse Wheel Zoom
In Microsoft Office applications, one thing I use fairly often is the Control - [Mouse Wheel] combination to change the zoom view. Microsoft added this one into the Vista Explorer environment, and it works to resize your Windows desktop icons as well as the folder or file view when exploring a drive or directory. In the directory view, it actually "scrolls" through the different "view as" options as well as changing the size of the icons in the window.

• Get Random Access

• Understanding Tech

• Print this article

• Shop Online