Both Windows and Mac have several built-in accessibility tools to help individuals with physical challenges operate the computer more effectively. These tools are included as part of the operating system and can be accessed through the control panel or program folders.
In Windows XP, the accessibility tools can be found by going to Start -> All Programs -> Accessories -> Accessibility. You can find programs like Magnifier, On-Screen Keyboard and Narrator.
The magnifier, as the name infers, enlarges elements on the screen for easier viewing. When launched, the Magnifer shifts the windows down on your desktop to make an area for the enlarged image to appear. You can resize and move the zoomed window to your preference. The tool has zoom levels from 1-9 and an invert color option.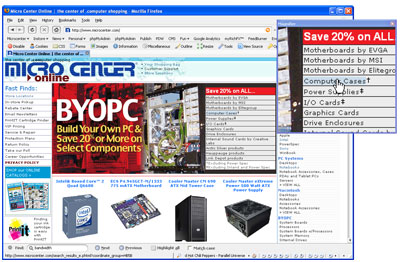 Magnifier
The On-Screen Keyboard provides a graphical interface to input commands and text using the mouse. For voice guidance, the Narrator reads the screen activities as you navigate around the desktop and use applications. For more information on other Microsoft OS versions, go to Microsoft Support to review the tutorials.

Onscreen Keyboard
Mac OS X also includes several accessibility tools in System Preferences. These programs can be found under the Universal Access and have options for Seeing, Hearing, Keyboard and Mouse help.

Mac OS X Accessibility Controls
Under Seeing, Mac OS X offers several choices: VoiceOver for speech, Zoom for enlarging screen images and Display for color correction. For Hearing, you can set the screen to flash when alerts occur and adjust the volume control. The Keyboard panel allows you to make modifications to the keyboard sensitivity through Sticky Keys and Slow Keys menus. The Mouse menu also has choices for slow or delayed reaction times when clicking. To learn more about accessibility for Mac, go to Apple's accessibility page.
References:
Apple
Microsoft Support