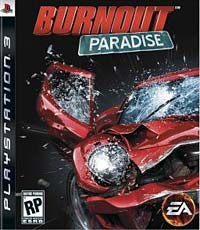 The latest installment of the Burnout franchise takes you to Paradise, the ultimate playground for automotive battles.
The open-world environment means there are no breaks for loading new races or challenges. To start a new race, you just pull up to a stoplight for that type of race and hit L2 and R2. This environment also means there is no set race course or laps. It's up to you to find the quickest route through the city.
On the new next generation systems (Playstation 3 and XBOX 360), the graphics are amazing, making the crashes look entirely convincing. The car bodies deform as real cars would and you can see small parts flying off.
Favorite race modes like Crash Mode (renamed Showtime) and Road Rage and the basic Race are back with some new friends. A new race mode called Marked Man gives you a destination and you have to survive to get there while other racers are trying to take you out. Stunt Run is about performing cool maneuvers, boosts, stunts and jumps to get to a target score.
The online experience has been enhanced. When you take down another driver, they earn Payback, a system where they can temporarily mess with your car (reverse your steering, lock brakes on and off, etc.) to get you to crash. If you have a camera hooked up to your game system when a player is taken down, both players exchange Mugshots (photos taken by each camera) so you can see the thrill of triumph and the agony of the takedown.
Rated E10+: Everyone 10+
Shop Online:
Burnout Paradise for PS3
Burnout Paradise for XBOX 360
Playstation Eye for PS3
Live Vision Video Camera for XBOX 360