Writing paper greeting cards can be a drag between finding the right mailing address and paying for all that postage. You can save time and help the environment by sending a custom eCard instead. To build your own electronic holiday greeting, follow these steps:
1. Create an image using Photoshop or another image editing program. Save the finished image in .gif or .jpg format approximately 500 pixels wide.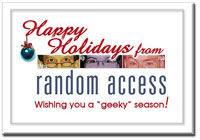 2. Copy the image to the Stationery folder located under Program Files:
C:\Program Files\Common Files\Microsoft Shared\Stationery
3. Using an HTML editor such as Dreamweaver, FrontPage or even Notepad, write a basic html page including an image source tag to attach your image. For repeating backgrounds or text effects, use CSS tags to adjust your layout. When complete, save with the .htm file extension in the Stationery folder along with your image.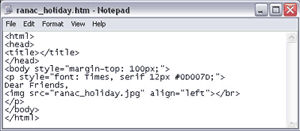 4. In Outlook, go to Tools -> Options -> Mail Format. Click on the Stationery Picker button, then from the Stationery Picker list, choose the new file containing your holiday message. Click OK and exit out of the menu. Note: In the Mail Format menu, make sure "Compose in this message format" has "HTML" selected in the drop down box.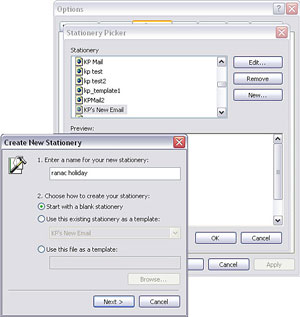 5. Create a new email and your stationery should show in the message window. Just add your list of recipients, a subject line and send!
Remember to go back to the blank stationery when you're done sending your eCards.