Whether you are a professional photographer or a novice picture taker, your images should be protected though the use of a copyright. According to the U.S. Copyright Office, pictorial images deemed as an "original works of authorship" are automatically protected upon their creation. This fact does not necessarily protect your work from being copied, especially if you post your work online. With the help of several ingenious tools in Photoshop, you can add some features to your images that discourage plagarism.
Digital Watermarks
Adobe, in conjunction with Digimarc Corporation, has developed a digital watermark feature as part of Photoshop's plug-in set. The watermark feature can be found by going to Filters -> Digimarc -> Embed Watermark. This places an invisible grain over your image as a notation to the copyright. When your image is opened in Photoshop, a copyright (©) symbol appears in the image title bar. It is important to mention that you need to subscribe to Digimac's service to make the watermark effective. Digimarc offers two types of services - ImageBridge for general commercial use and MyPictureMarc for individual use. The MyPictureMarc service is the more cost effective service with the annual subscription fee starting at $79 for 1,000 images. In addition, Digimarc offers extra features such as image tracking to let you know where your images are being used across the Internet. There is also visual watermarking feature to embed your name or logo into the image.
You don't have to own a full version of Photoshop to read watermarks either. Photoshop Elements supports Digimarc in order to get the copyright owner's information. To view the watermark in Elements, go to Filter -> Digimarc -> Read Watermark. This activates a new window to display the image information.
Create Your Own
Another option is creating your own watermark. This is easy to do by using layers and transparency. For a simple copyright symbol, select the text tool and click on the image to create a new text layer. Enter the copyright symbol (in Windows, hold down ALT and type 0169. In OS X, type Option-G). Next, go to Layer -> Layer Style -> Drop Shadow. Set the shadow specifications to a light mark such as Blend Mode: Normal, Opacity: 30%, Angle: 120, Distance: 5px, Spread: 0%, Size: 5px, Noise: 0%. Click OK, then move over to the Layers palette. Decrease the text layer Fill to 0%. The remaining shadow leaves a subtle watermark effect on your image. This technique is a quick fix without having to go through the Digimarc process, but the watermark can be erased with the clone tool and lots of patience.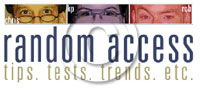 [enlarge]
You can add more file information through the File Info menu. Go to File -> File Info. Here you can add an image description, keywords and attach a copyright notice.


[enlarge]
Protecting your work is important especially if you are a professional photographer or artist. Plagarism can cost you not only money, but compromise the integrity of your work. Photoshop gives you the tools to effectively copyright your work at a minimal cost and effort.
Shop Online:
Adobe Photoshop CS3 (PC)
Adobe Photoshop CS3 (Mac)
Adobe Photoshop Elements 6
Adobe Photoshop CS3 for Photographers
References:
Adobe Support
Digimarc
Evening, Martin. Adobe Photoshop CS3 for Photographers
U.S. Copyright Office