Apple has finally released their fifth major update to Mac OS X, and this one is absolutely packed with features. Let's look at some of the big ones...
Desktop
The first thing you'll notice about 10.5 is the spacey desktop image and the three-dimensional new Dock. The Dock's 'floor' reflects the icons on the Dock and windows behind it. This only works if you have your Dock on the bottom of the screen. Docks on the sides of the screen will only have a border around the Dock area.
To the right of program and document icons in the Dock is space where you can add folders of frequently-accessed files. This feature was available in previous version of OS X, but 10.5 displays them in a whole new way. Instead of a list of files with tiny icons you get a spring-loaded, fanned-out icon view called Stacks.
Stacks expanded


[enlarge]
Finder
Speaking of finding what you're looking for, the Finder window has been revamped, bringing Spotlight search and file browsing together. The Finder interface is similar to that of the ever-popular iTunes, giving you easy navigation of resources in the sidebar on the left.
DEVICES lets you access any storage device that is connected to your computer, including flash drives, external and internal drives and .Mac iDisks.
SHARED is a list of computers on your network.
PLACES is a customizable list of favorite folders from anywhere you can access. Simply drag and drop any folder into the Places list.
The SEARCH FOR section is the most innovative part, listing default search results (such as any documents modified in a certain time period or all documents of a certain type) as well as any custom searches you save to the sidebar.
Browsing through files has never been easier with the addition of the Cover Flow to the Finder. Users of iTunes will recognize the ability to flip through large previews of their documents just like album artwork. Hitting your spacebar in Cover Flow mode will give you a preview of the document without opening the associated application. This feature is called Quick Look and works with all sorts of documents including images, text files, PDFs, Excel spreadsheets. Even movie files can be played in Quick Look mode without opening the Quicktime Player.
Finder with Cover Flow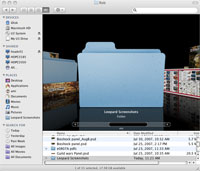 [enlarge]
Spaces
Your computer is used for all sorts of tasks and it's easy for your screen to get cluttered with open application windows. Spaces lets you organize your windows into function-specific workspaces that are easy to switch between. You enable Spaces in the Expose & Spaces System Preference. From there, you can configure as many Spaces as you wish. Hitting F8 anywhere gives you a bird's eye view where you can move windows between spaces and rearrange which spaces go where. It takes some getting used to but once you're acclimated to having discrete workspaces for each task, you'll find it intuitive.
Spaces bird's eye view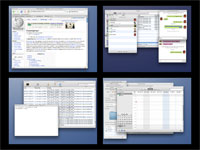 [enlarge]
Time Machine
Time Machine is the easiest way to keep backups of your important data. Once you plug in an external hard drive, 10.5 will ask you if you want to use the drive for Time Machine backups. From then on, Time Machine keeps hourly updates for the last 24 hours, daily backups for a month and weekly backups until your backup disk is full. Retrieving deleted files (or even old versions of existing files) may be the best part. Activating Time Machine will give you a timeline view of your backups so you can browse and find exactly the file you're looking for. Retrieve your file by selecting it and clicking the Restore button.
Parental Controls
The Parental Controls in 10.5 allow you to specify how often and at what hours a specifid account may use your computer. The System Preference pane has many options, including which applications can be used, which websites can be visited, and who can be emailed or chatted with. Time limits can be imposed separately for weekdays and weekends, and can prevent access during specified bedtime hours. Also, you may log which websites are visited, which applications are used and who is chatted with.
Define Bedtime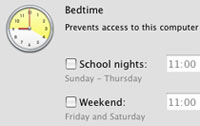 [enlarge]
Safari
Apple's web browser keeps getting better, faster, stronger. Besides the standard tabbed browsing and the ability to manage tabs however you want, the newest version of Safari sports some really cool features. The enhanced find function highlights the text and makes it pop out, making it easy to spot what you're searching for.
Find in Safari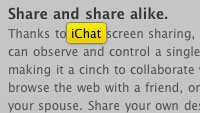 [enlarge]
The other innovative feature is the ability to make Dashboard widgets out of any web page. Just click on the Web Clip button (the one that looks like it wants to clip out a coupon) and select the section you want. That bit of web page will be a "live" widget that updates whenever the original page does. You can select videos from YouTube or frequently updated sections of news sites.
These are only some of the biggest updates to Mac OS X. There are hundreds more new and improved features in this latest version. Drop by your local Micro Center to take your own test drive.
Installation
Upgrading to 10.5 is amazingly easy. You simply put the installation DVD in the drive, open the installer and restart. This steps you through only a few screens before the installer does the bulk of the work. In about an hour you have a new operating system experience to enjoy.
Before Upgrading
So you're all gung-ho and ready to upgrade to 10.5 but there are a few things to do before you make the leap that will make sure things go smoothly.
Backup
It's always a good idea to backup your important files before any major change. Good Random Access readers know to backup regularly, right?
Upgrade other Apps
Make sure your other applications will play nice before you upgrade. Check manufacturer's websites to see if there are updates required for 10.5.
Shop Online:
Mac OS X 10.5 Leopard
Mac OS X 10.5 Leopard Family Pack