Many of you are probably familiar with Adobe Acrobat Reader - the free PDF document viewer software. The full version of Acrobat includes powerful tools that can be useful for editing print documents and presentations. The newly released Acrobat Professional 8 offers some noteworthy extras such as redaction text and paperless forms. In this demonstration, I am going to discuss several sleek features of Acrobat.
The first step is to create your presentation. To illustrate, I have created a simple three page document using Apple Pages application. You can use most any word processing program with Acrobat including Microsoft Word, Excel and Powerpoint or Adobe InDesign. Acrobat provides plug-ins to convert these files directly to PDF. In addition, you can create PDFs directly in Acrobat by importing text, scans or even web pages. For Apple Pages, it includes an export function to PDF format. Once your file is ready, you can open it in Acrobat for editing.
For many years, one of the advantages of Acrobat was the ability to insert and extract pages. This function is still very useful with a large document when only a single page needs replaced. In addition, Acrobat has a lineup of tools to make the editing process efficent. For example, you can add sticky notes for corrections, and through Adobe Connect, you can setup a Shared Meeting request to review the PDF live. In the following example, I have demonstrated how to attach a sticky note to an item on my presentation. The note is date- and time-stamped so that you know when the comment was made and by whom.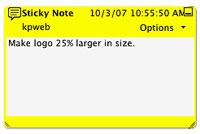 [enlarge]
Acrobat also has an array of security features to protect your documents. One feature is the Watermark tool. You can enter your own custom text or import your company logo for the copyright. Plus, there are several settings to change the text attributes, add transparency, and scale the mark. For document security, you can attach a digital signature. To create a signature, go to Sign -> Place Signature. You have the choice of using any existing digital certificate or creating your own. For the purposes of this demo, I chose to create my own signature. (To learn more about digital signatures, read my previous article on "What are Digital Certificates") When complete, Acrobat prompts you to sign the document with your password in order to continue.
One of the new features of Acrobat 8 Pro is the redaction of text. Redaction is the editing or blacking out of classified, confidential or otherwise sensitive material from a document. By using redaction, you can make sure that the text cannot be copied and pasted to reveal the hidden text. To activate redaction, go to Advanced -> Redaction -> Mark for Redaction. Next, select the text and adjust the menu settings to your needs.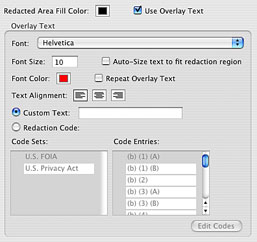 [enlarge]
One of the better updates to Acrobat 8 Professional are the interactive forms. In the past, a PDF form was static and had to be printed, filled in manually, scanned, then emailed or faxed back to the sender. Acrobat now has the option of editing an existing form (built from another application) or creating a form from scratch. In my presentation, I wanted to make the Random Access Sign Up URL a live button. To accomplish this in Acrobat, I went to Tools -> Forms -> Button Tool. I selected the text for the URL, and using the Button Tool menu under Actions, I chose the trigger as "Mouse Up" and action as "Open a web link." Next, a dialog box appears to enter the absolute URL. After saving the PDF, the document will have an embedded hyperlink on that page. This feature makes it much easier than programming a web form or processing a form manually.


[enlarge]
Acrobat 8 Pro's new features provide many new tools to creating PDFs more efficiently and securely. With the addition of redaction text and interactive forms, your documents can remain protected and versatile. There are also other versions of Acrobat - Standard and 3D - that offer different feature levels. Standard supports all basic functions such as PDF creation, protection and sharing, but lacks the redaction, interactive forms, and AutoCAD support. Acrobat 3D takes Professional to the next level with more CAD support. Overall, Acrobat makes a good addition to your office applications with its flexibility and compatibility.
Shop Online
Adobe Acrobat 8 Professional for Mac
Adobe Acrobat 8 Professional for PC
Adobe Acrobat 8 Standard for PC
References:
Adobe

• Get Random Access

• Understanding Tech

• Print this article

• Shop Online