With the launch of Apple's new iMac line, they have introduced an improved version of the iWork software package. In addition to re-vamping two existing programs - Keynote and Pages - Apple has added a new spreadsheet program called Numbers. Similar to Excel, Numbers provides complete table building tools and functions plus graphic options. Keynote and Pages have also added some new features by integrating their menus into the main interface and new image editing techniques. As a software package, these three programs make a powerful team for creating anything from a cost analysis to project proposal to professional presentation.
The newest member of the team, Numbers, offers basic spreadsheet elements with a few bonuses. The first thing that you notice when opening a new document is that each item on the sheet is modular, including the tables. This feature called "Intelligent Tables" allows you to move a table anywhere in the document - you are not confined to an anchored grid like Excel. Numbers works like Pages in the fact that you can add pictures, shapes, even movies to make a comprehensive presentation. Plus, the tables use functions just like Excel. You can write your own formulas or choose one of the 150 functions in the Numbers library. Some other notable features are the 3D charts and importing data from your other Apple programs such as Address Book. Most importantly, Numbers documents can be saved as Excel, PDF, CSV or exported into iWeb for website integration. During my testing, exported a Numbers document into Excel format and re-opening the same document in Excel. Except for a font compatibility issue, Excel was able to read the file, and my formatting was preserved during the exporting process. Overall, for a new program, Numbers offers great functionality and features with a small learning curve.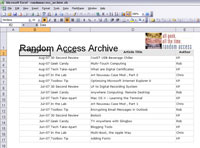 Opening an Numbers document in Excel
Both Keynote and Pages have new effects and creating documents even easier with the updated interface. One new feature that's included in both applications is the "Instant Alpha" tool. It works by knocking out the background of a picture by selecting the appropriate color. Those of you who are familiar with Photoshop may recognize this as something similar to the Magic Wand tool but without the custom tolerance adjustment. In my experiment, I wasn't able to clear the background as easily as the tutorials show in the example. Other than the minor issues with Instant Alpha, the new options in both programs seemed to work well. Pages has an even bigger template selection and has integrated the format palette into the main toolbar for easy access. If you have a team co-designing a document, Pages has a new feature that can help avoid over-writing one another's changes called "Change Tracking." This feature places small notations in the left column of your shared document which shows any updates. Then, you can arbitrarily decide to save or delete the modifications.
Apple has also expanded Keynote's program library, in particular the effects and transitions that are included. You can create your own custom text effects using over a dozen animation options. Transitions has also gotten an upgrade by the addition of new effects such as "Confetti." From the example I was able to adjust the timing and direction for a dramatic result. Another animation effect offered is the "A to B Animation" that allows you to set an image along a custom path. It's like having Flash built into the program without the learning curve.
Though some of the new tools offered in iWork '08 edition needs some additional tuning, this software bundle is worth the upgrade just to have Numbers as a spreadsheet creation tool.
Shop Online:
iWork '08
References:
Apple

• Get Random Access

• Understanding Tech

• Print this article

• Shop Online