With social websites taking over the planet, blogging is more popular now than ever. It's an easy way to share your opinion on the latest gossip or the ramblings of your day. Blogging can also be a powerful tool for promoting yourself to potential employers or advertising your amateur art skills. One of the keys to using blogging to your advantage is having the right tools to make your postings go from run-of-the-mill to the envy of your fellow bloggers.
Most blogging services allow you to customize your post by allowing you to add your own code. These sites offer standard templates or browser plug-ins to help guide you through designing your space and usually include Rich Text or CSS (Cascading Style Sheet) editors. But if you are interested in developing a unique blog template, there are some handy programs available to guide you through the design process.
For PC and Mac, there is a line of Adobe software that offers a simplified version of their professional programs.
Adobe Photoshop Elements is a streamlined version of the popular Photoshop CS photo editing software offering many image adjusting tools. It includes editing features like the healing brush to wipe out picture flaws and a Quick Fix mode to change color tones.
Adobe Premiere Elements is a light version of the Premiere pro video application which allows you to build your own home videos and export to DVD or the Web.
Adobe Contribute is a webpage editor with integrated blogging tools. You can set up Contribute to publish directly to your blogging service, and it offers plug-ins Microsoft Word so that you can upload directly from your document to your blog.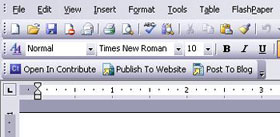 Contribute Integration
Exclusively for Mac users, the best choice for blogging is Apple's iLife suite. The iLife '06 edition includes iPhoto, iMovie and iWeb which can be used together to build the perfect blog. Because these programs are integrated, it is easy to swap files between the programs when constructing your post. For example, iPhoto's tools can crop, color adjust and optimize your imported pictures, then export to iWeb to insert into your blog page. iMovie provides similar quick editing tools and "web-optimized" export features to import into iWeb. The newest member of the iLife package is iWeb which has a blog manager integrated into the program. You can easily create new postings while iWeb keeps track of your previous blogs. In addition, iWeb has its own set of templates so you don't have to mess with CSS if you choose not to. Happy blogging!
Shop Online:
Adobe Photoshop Elements 5.0 for Mac or PC
Adobe Premiere Elements for PC
Apple iLife '06

• Get Random Access

• Understanding Tech

• Print this article

• Shop Online