Summer is already here, and it's time to hit the road. Don't leave home without having a few essentials to help you along your way. Here are few recommendations to pack when traveling:
1.) Surf with style

Apple's 13-inch MacBook is the perfect travel accessory because it gives you more computing power for less money. Loaded with Apple iLife suite, the MacBook has everything you need to download, edit and send your vacation photos to friends and family. Plus, it has built-in WiFi and Bluetooth making this system ultra portable as well as compatible.
2.) Protect your gear


Doberman Security Bag Protector is like having a car alarm for your luggage. This uniquely designed device has both a motion sensor alarm and a pull pin alarm that is loud enough to be heard several rooms away. Just program in your personal security code and attach it to your luggage to safeguard your valuables.
3.) Movies with wheels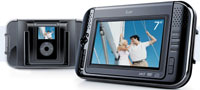 iLuv Portable Multimedia iPod Media Player is the perfect travel companion. This player enlarges your iPod screen to a 7-inch widescreen, plus its compact design is small enough to fit into your luggage easily. Including a remote control, 12-Volt adapter, carrying case and car seat strap, iLuv is ready out of the box.
4.) Cell power on the go
If you even have left home without your cell phone charger, Zip-Linq USB Cell Phone Charger can save the day. By connecting to a USB port on your computer, it converts 5VDC to 9VDC to re-charge your cell phone. Compatible with most popular brands.
5.) Travel the globe digitally

When you're on the road, a GPS can save time (and frustration) traveling to your destination. Gamin's Nuvi 350 does more than just read coordinates - it's also a MP3 player, audio book player, picture viewer, and currency converter. You can stay entertained and arrive on time with this handy gadget.

6.) Chart your adventures

Capture your vacation in vivid detail with Canon's DC50 DVD Digital Camcorder. Recording directly to DVD, the DC50 camcorder has built-in editing and dubbing features so that you can make your movies ready in minutes. It has a 5.3 megapixel CCD for high resolution video or photos and 10x optical/200x digital zoom for close-ups.
7.) Emergency repairs


Nothing's worse when you are stuck in the middle of nowhere with no tools for repairs. With Belkin's Professional 55 piece toolkit, you won't be stranded and able to do quick repairs on your computer equipment. For extra lighting with no batteries required, the Emerge 'N See flashlight winds up to give 30 minutes of light.
8.) Fun and games on the highway

Spending hours trapped in a vehicle can be purgatory. Try breaking the monotony with a Nintendo DS loaded with Wario: Master of Disguise. This latest installment in the Mario legacy lets you can become Wario - a master thief where you get to create his costumes. Wario takes on eight different personas with each costume while traveling the globe in search of loot.
9.) Personal assistant while you drive


Trying to write notes and drive is not safe for anyone. 3M has developed a solution with the Post-It Auto Message Center that records your voice. The recorder clips right on your car visor so when you are stopped you can write down your notes with the included Post-It note dispenser.
10.) Portable desktop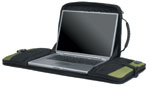 The innovatively designed Laptrap Notebook Case can turn into a portable desk for your computer. With extra pockets, it has plenty of room to store your notebook accessories and its shock-absorbing EVA foam protects your system from accidents. No matter where you are, the Laptrap provides essential notebook protection and storage for your travels.