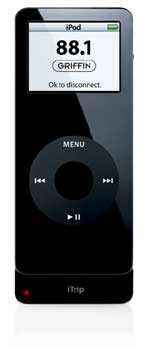 The Griffin iTrip Auto offers iPod nano users the ability to play their iTunes songs or podcasts through their car's stereo. The device is made of lightweight plastic that matches the black nano. The nano's LCD displays the frequency crisply and boldly. The device provides an FM frequency range that is diverse enough to accurately function within city limits and is powered by a cigarette lighter-type outlet. iTrip comes with a cord that extends a few feet if you need extra cord to string through your car. This transmitter gives better reception than its predecessors; I was able to listen to my podcasts without any static or buzzing sounds in the background. The volume is controlled by your car. On a scale of 1 to 10, I rate this a 9!

Shop Online:
iTrip - FM Transmitter for iPod Nano

This article was written by a special guest, Sherif. He has been a computer technician for almost a decade, but his real passion is for Macs. He owns several Mac desktops and just added a black iPod nano to his collection. He is often seen wearing his nano as a fashion accessory.

• Get Random Access

• Understanding Tech

• Print this article

• Shop Online