Automator

Save time by streamlining your workflow on the Mac by using OS X Tiger's Automator. If you haven't taken advantage of the power of this application, you can start right now. The Automator is located in the Applications folder of your user account. Once you boot up the program, you'll notice a three paned window. The first pane, called Library, contains a collection of pre-written workflows for most of your applications. There are also two other folders titled Example Workflows and My Workflows. These folders will come in handy when organizing your build-it-yourself scripts.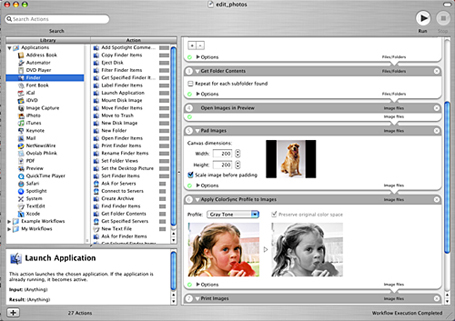 Automator Workspace
The second pane contains a set of actions for each workflow. By clicking through the list of workflows, you'll notice that the actions are customized for each application. This feature saves a huge amount of time if you need to make a workflow on the fly. Finally, the third pane is where you will do the actual building of your script. Apple has made Automator's interface as easy as dragging and dropping actions. Plus, Automator keeps track of the action's order by linking each one together with arrows.
To show how effortless using Automator can be, here is a sample workflow for quick editing and printing photos. First, go to the Library and locate the Finder folder under Applications. Select and drag the Launch Applications action onto the workflow build area, then choose Preview as the Application. Next, select Get Specified Finder Items action and place it under the first action. Automator monitors the order of your script by numbering your actions in the top left-hand corner. Before going on, you need to specify where your images are by clicking the plus (+) button and locating the files on your hard drive. With the image folder identified, you can continue building your script by placing the Get Folder Contents action as action number three.
From this point, you need to switch action folders from the Finder to Preview. The first action to add for Preview is Pad Images. This action scales the images to whatever dimensions are specified in the action options. If you want to do some color correction, select the Apple ColorSync Profile to Images action that can adjust the color to a display, printer or custom filter. The final step is add the Print Images action to the list. For this action, you need to set the printing formats and the printer. Save your workflow and then try running your script. Automator has a error check and stops if there is a problem in the execution of the script.

One great feature of Automator is that you can access your script from anywhere on your Mac. Just right-click on your mouse to view the contextual menu (or for one-button mouse users, press the Control key and click). Using the menu, you can launch Automator to build a workflow. In addition, you can share your workflows with other Macs.
This versatile program can help save you valuable time for mundane tasks. Automator gives you a simplified version of scripting without having to know programming. Next month, I'll examine advanced functions of Automator using AppleScript and features of Xcode. If you want to get started now with AppleScript, try Sams Teach Yourself AppleScript in 24 Hours.
Shop Online:
Sams Teach Yourself AppleScript in 24 Hours
Reference:
Apple Support - Automator Basics
Apple's AppleScript Tutorial

• Get Random Access

• Understanding Tech

• Print this article

• Shop Online