A long box was delivered to the Random Access Underground Lair that bore the words "Guitar Hero." Opening the box revealed the game and a guitar controller for PS2. I had heard about this game but I was a little hesitant to play it, afraid I would look like a fool in front of a big-screen TV. My fears were assuaged when I got plugged in. The included guitar (they call it an SG controller) features five colored fret buttons and a strum bar that you use to play the "notes" that appear on-screen. The guitar even has a whammy bar to slam on those long notes. Playing the game is a lot like the coordinated timing of a Dance Dance Revolution game but you're using your fingers instead of feet.
After a few, quick tutorials, I was ready to play a song. The Quick Play mode allows you to play a single song from a list. I picked "I Love Rock 'n Roll" by Joan Jett and the Blackhearts. Other songs you can rock to include "I Wanna Be Sedated," "Iron Man," "Take Me Out," "Thunderkiss 65" and the classic "Smoke On The Water." During a song, the Rock Meter shows how well you're playing (it measures the crowd's excitement). The better you do, the more the crowd likes you and the more points you rack up. When you get enough notes right, the Power Bar will fill up and if you lift the neck of the guitar up, you'll get even more points. It's tougher to hit all the notes right but you'll be in that legendary rock 'n roll pose, so it's worth it.
Public Service Announcement: When you do exceptionally well at a song you may feel the need to smash your guitar - but try to keep your head. Your SG controller is easily broken by a slam into your fake amp (not included).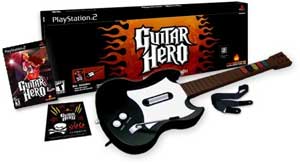 Guitar Hero comes with the game, guitar controller, neck strap and stickers to customize your guitar.You supply the rock 'n roll attitude.
Once you get your feet wet with single songs, it's time to advance into Career Mode. Here you start out playing in basements and work your way up to sold-out arenas. Getting through this mode is a breeze on "Easy difficulty," even for someone like me who doesn't play a real guitar. In this mode, you don't play every note in the song and you'll only need three of the five fret buttons. When you try Medium difficulty, there are more notes to be played, you'll use all five frets (get those pinky fingers ready) and you'll encounter plenty of chords (two fret buttons held down at the same time).
This is a great game to have at your next party. Everyone will want to take a turn and you can laugh when your buddies get booed off stage. You can even add a second controller to face off in two-player mode.

• Get Random Access

• Understanding Tech

• Print this article

• Shop Online