What is Bluetooth?
Bluetooth is an open specification for a technology that enables short-range (2.4GHz) wireless connections between desktop and laptop computers, personal digital assistants, cellular phones, printers, scanners, mice, keyboards, GPS receivers, digital cameras and even home appliances.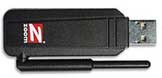 Zoom Bluetooth USB Adapter
Bluetooth-enabled Devices
Some of the Bluetooth enabled devices available include wireless access points, headsets, keyboards, mice, printers, phones, GPS and PDAs. For this article, I will be working with a Zoom Bluetooth USB Adapter to communicate between the computer and Bluetooth enabled devices.
Windows Bluetooth Support
Windows XP - Insert the USB device to start the Found New Hardware Wizard. Even connecting to the Internet, Windows has no clue what this device is and displays a window with the message "Cannot install this Hardware". Cancel the Wizard and insert the driver CD; install the drivers and application for the USB Dongle. The setup program should install a set of Widcomm drivers and add Bluetooth services and the utilities to detect Bluetooth devices. You may see a message about signed drivers, because at the time of Windows XP and XP SP1, there was no Bluetooth certification in place. By SP2, that certification does exist, and installing the Widcomm drivers will only confuse you by installing drivers and controls that cannot access the BT dongle. The reason for this is that Windows drivers immediately take control of the BT radio, making it unavailable to the Widcomm applications. There is a work-around to this; by manually removing the XP Bluetooth radio support, Windows XP can and will use the Widcomm drivers instead1. This step is necessary to access certain Bluetooth services, such as keyboards, mice or headsets2.

Once the driver and utilities have been installed, you should see a Bluetooth icon in the system tray and one called "My Bluetooth Places" on the desktop. The system tray icon will display the status of your connections. If you remove the dongle or it has been disabled, the icon "B" will appear red; with the dongle installed but no connection, the "B" is white; and when you have an active Bluetooth connection with another device, the "B" changes green. Under Windows XP with Service Pack 2 installed, Windows installs its own Bluetooth icon in the system tray.
Bluetooth Icon Indicates Status

Enabled

Enabled

Connected
Click on the Bluetooth Places icon to start the initial configuration. You can come back to this later if you want to make changes or lock down certain services. After installing shortcuts everywhere and naming your computer for the Bluetooth network, you should get a list of services that the computer will offer. The Zoom install includes: PIM Item Transfer, PIM Synchronization, File Transfer, Network Access, Dial-up Networking, Bluetooth Serial Port, Fax, and Audio Gateway.
How these services relate to a specific device is not always immediately apparent. Sometimes they correspond directly to a network or wired service, but the functionality may be limited by the type of device, or how it uses the device. Just having a service available does not mean that your phone, PDA or computer can connect to a Bluetooth device: sometimes the device must do the connecting.
The other thing you will discover is that as you enable certain services, Bluetooth versions of the device will appear in your device manager or control window. For example, adding Bluetooth Network Access creates a Bluetooth Network adapter in the network connections folder (and in Device Manager.) On my test system, I do not have a modem, so neither the fax or dial-up networking services were automatically selected for installation.
Discover Bluetooth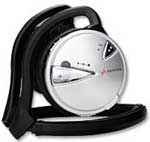 Anycom Blue Stereo-Headset BSH-100


Once you have your Bluetooth radio link configured you can search for ("discover") nearby Bluetooth devices and detect what services they provide. I use my HP 6315 PDA/Phone for all sorts of things, including as an MP3 player. One thing that I found really annoying was how you manage to snag headphone wires on chairs when you sit down or get up, and with branches, rakes, and other outdoor implements when working in the yard. Since the HP6315 has built in Bluetooth, I bought one of the Anycom BSH-100 Blue Stereo-Headsets. I already use one of those tiny over-the-ear Jabra headsets for hands-free phone calls, but they don't do all that well for music playback and are not stereo; not that that matters on the PDA - it doesn't appear to broadcast stereo over Bluetooth anyway. The Anycom headset configures on the PDA much the same as my other headsets did:
Start Bluetooth Manager on the PDA
Click on Tools and select Paired Devices
Click the Add button
Turn the headset on in "pairing mode." In the case of the Anycom device this is done by holding the volume up button while turning on the headset. When the Blue LED starts flashing, it is pairing mode.
On the device pairing screen, click on the explore icon to search for devices. Locate the headset (or other device) and click OK. Back at the Pairing screen, enter the Passkey (usually 0000). Click "enter" or OK to exit.
You now need to create a connection shortcut to the device. Still in the manager, click New. Click on the device type such as "Hands-free/Headset," select the specific device from the list and click OK.
To use the headset on the PDA, I found you can go through the Bluetooth Manager screen to connect to the Headset shortcut that was created during the initial connection process, or just turn on the headset, and click one of the feature buttons. To have the headset connect to the PDA, the Hands Free service must be configured from the Bluetooth Settings menus, and Accessibility must be set to allow other devices to connect; choose "All devices" (bad) or "Paired devices only" (good). On the PC, turn on the headset, and then connect to your Headset device from Bluetooth Places.
Another Bluetooth device I recently picked up was a Blue Mini Mouse, also from Anycom. Although this can be "discovered" by my PDA, it does not detect any useable services from the device. To add the mouse to the devices on the PC:
Open My Bluetooth Places.
Double click Find Bluetooth Devices
Turn on the mouse and press the Connect button on the bottom.
When the mouse shows up in the list of neighborhood devices, double click on the mouse icon to connect to the device. After Windows detects new hardware and adds the Bluetooth mouse to your Device Manager, it just starts working.
Under Windows XP, audio headsets should automatically switch your default playback device from your sound card or integrated audio to the Bluetooth device. If you were running a game or Media Player, you will probably have to stop and restart the program before you will hear the output. The Bluetooth mouse will coexist with your regular wired mouse and keyboard, or even other wireless mice and keyboards. If you haven't discovered this feature yet, try it out - you can have multiple keyboards and mice all active and functional at the same time on the same computer. You can have PS/2, USB, Wireless, and Bluetooth all connected and functional; I will leave the question as to why you would do this up to you...
Another device I found works really well is a Bluetooth GPS receiver. With a dongle attached to my notebook I can use it with Microsoft Streets or other navigation software that support GPS, or more frequently, I use it with my PDA. Pocket Streets has a GPS feature that will display your position. Pharos GPS does this and also has navigation and voice prompting turning directions. There are several other navigation packages out there, some that even bundle Bluetooth GPS receivers with them. (Guys - just think, with enough gadgets like this, you will never have to ask directions again!)
Footnotes:
1 Microsoft has a Knowledge Base entry that describes how to remove Bluetooth wireless device support in Windows XP Service Pack 2 (http://support.microsoft.com/default.aspx?scid=kb;en-us;889814) After Windows XP Bluetooth support is "disabled" by this process; you can install and use the drivers that come with your specific dongle.
2 Windows XP SP2 is configured so that Bluetooth devices will not function until you configure and pair the devices in Windows first. This requirement helps prevent unauthorized access to your computer. See Microsoft Knowledge Base article http://support.microsoft.com/default.aspx?scid=kb;en-us;873154 for details.

• Get Random Access

• Understanding Tech

• Print this article

• Shop Online