Have you ever tried to read a map and drive at the same time? Or gotten lost somewhere because your paper map is so old that many roads aren't on it? Whether you are a frequent business traveler, avid hiker or just get lost easily, a GPS receiver can be a great benefit when traveling. GPS receivers come with a variety of features to help you get to where you need to be and also have interactive components such as voice guidance to help you along your way.
GPS receivers operate by using the Global Positioning System (GPS) which is a system of satellites created and maintained by the U.S. Department of Defense. The GPS project began in the late 70s for military use but was deregulated for the public in the 80s. There are 24 GPS satellites orbiting the Earth at any given time that send radio waves back to the surface. GPS devices use this information by plotting a 2D position (latitude and longitude) using three satellites or a 3D position (latitude, longitude and altitude) with four or more satellites. Using this plotting method, a GPS receiver can target a point up to 15 meters, but with the integration of WAAS, coordinates can be tracked to less than five meters. The Wide Area Augmentation System, (WAAS), is a network of terrestrial control stations that help increase the accuracy GPS. For marine navigation, there is DGPS, (Differential Global Positioning System), that uses towers to evaluate and correct GPS signals.

Lowrance iWAY 500c
GPS System
Many GPS receivers do more than just give geographical coordinates. Some GPS devices have MP3 players in addition to voice guidance and a multi-channel design for better signal strength. For example, the Lowrance iWAY 500c GPS System has a 12-channel GPS receiver with WAAS capability, an MP3 player and 20GB internal storage to save both music files and map routes. The iWAY is customized for vehicle use and comes with mounting hardware and a power adapter for attach to your vehicle. It also has a USB interface for connectivity with your home PC for map updates.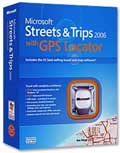 Microsoft Streets and Trips
If you are a business traveler, you can turn your laptop into a GPS receiver too. Microsoft's Streets and Trips has mapping software ready to load onto your computer and includes a GPS locator for your USB port. Streets and Trips includes free online updates for road construction and new map routes. This software also has advanced features to do trip planning, custom maps and can even import contacts from Outlook and Excel.

Garmin iQue 3600
Handheld GPS
For outdoor use, a GPS handheld unit is more convenient. Garmin's iQue 3600 works as a PDA using Palm OS software, but with GPS capability. It has an adjustable antenna, 12-channel design, touch screen and USB interface to plug into your computer for updates. The iQue is a small but powerful GPS receiver perfect for hiking or geocaching.
Geocaching is a game designed for GPS enthusiasts and is best described as a techie version of treasure hunting. The game works by using a set of GPS coordinates posted online, then with your GPS device, you "hunt" for the location. Once you have successfully reached the "treasure," players mark their name in a logbook, take a piece from the treasure box and place something new in the box for the next player. Usually the treasure is placed in a rural environment hidden by the natural landscape to add challenge to the game.
Whether you are a frequent business traveler or just love the outdoors, a GPS receiver can be a very useful tool for finding your way around. Since using GPS is free and available worldwide, you'll never have an excuse to get lost again. So, toss out the paper maps and go digital.
References:
Garmin - www.garmin.com/about
GPS Lowrance - www.lowrance.com