This month, our resident support guru and guest writer, coney, chimes in on his experiences with Windows Vista

By now, you have probably heard of the next version of the Microsoft Windows operating system named Windows Vista. This new version has been in the works for quite some time (under the codename Longhorn), and during the last couple of months we have started to see more promising versions of the operating system from Microsoft in the way of beta releases.

After getting back from the last month's Microsoft Professional Developers Conference in Los Angeles, I got the opportunity to take a look at the latest Community Technology Preview build 5219. Microsoft gave this version out to attendees of the conference after the keynote presentation where Bill Gates and other Microsoft execs touted some of the new features in Vista.

It is important to remember that Vista is not due to ship until the second-half of 2006 and Microsoft still has a lot of work to do, but I can tell you that the latest CTP is better than Beta 1 that came out in July. Let's take a quick look at some of the new features and some screenshots. This is by no means meant to be an in-depth review of Vista, but it will provide you with some general information on what is coming.

Installing Vista
The first thing that you notice when installing Vista is how Microsoft has made the installation simpler. Just enter the product ID, agree to the End-User License Agreement, select the installation location, and you are off and installing... and installing... and installing….

The current install takes quite a while. I have not timed it yet, but you can easily walk away from your computer, get some lunch, a back massage, and a cappuccino, and then return just in time to watch the "Completing installation…" screen for a while. Ok, so maybe I am stretching it a little, but it is not a short install.

The New User Interface – Aero
Aero is the name of the new UI that Microsoft has been working on for Vista. I really like the looks of it compared to Windows XP. I am not a user that likes his OS to be pretty and flashy, but Microsoft appears to have gotten it right with Aero. I have my Windows XP theme setup to look just like Windows 2000 and I like it that way, during the last couple of weeks Aero has really started to grow on me. Just take a look at the screenshot below and see what I am talking about. It is not too bright and the UI is very easy to look at and use.

There has been a lot of talk about Vista requiring way too much horsepower in the aspect of video cards and system resources. Most of this is due to the new Aero Glass 3D user interface. There are some reasons to admire Glass, like translucent effects for menus and the desktop. Below is a side-by-side comparison of the standard Aero and Aero Glass 3D.
| | |
| --- | --- |
| Standard Aero | Aero Glass 3D |
In order for a system to be able to use the Glass features, the video card will need to have at least 64MB of video memory (128 MB recommended) and a Longhorn Display Driver Model driver. It is also recommended that the video card support the complete DirectX 9 API.
Aero Glass also provides easier ways to get around all the windows that you may have open. A feature codenamed "Flip" provides you with a preview of a window's contents when you use the ALT+TAB keys to navigate them. Another very nice feature of glass is the "Flip 3D" feature, just press the Windows Key + Spacebar to activate. All of the open windows tilt and show in a 3D view that allows you to easily select which window you want.
Start Menu
The developers at Microsoft have also made some changes to the Start Menu. The All Programs link on the menu no longer opens a separate menu to the right of the Start Menu; instead a menu is shown on the left side of the Start Menu that has a scroll bar which moves up and down. When you click on a folder in the All Programs menu, it will expand the folder allowing you to see all the items contained within. This change has taken some getting used to during the last couple of weeks, and overall I like the way it functions when compared to having a huge menu that could form multiple columns.

Search right from the Start Menu
Finding Your Files
Microsoft and many others have been talking about the integration of Microsoft Desktop Search with Vista and the new feature called Virtual Folders. With the popularity of desktop search utilities by Google and others, Microsoft appears to have wanted to make this a core feature in Vista. Just take a look at the changes to the standard search dialog. On the Start Menu and throughout the OS you will find a search box in each window. Searching can be done based on Labels or metadata that has been specified for files. The metadata makes it is easier to categorize your files for later searching and setting up virtual folders.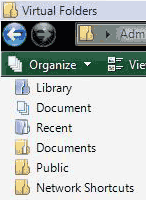 Virtual folders

Virtual folders are being compared to having saved or pre-configured searches in Windows. Each virtual folder has a search criteria attached to it, and when you open the folder Windows will go about searching the computer for files that meet those criteria. Vista comes with some virtual folders already configured when you install it, and you will see them when you open the new Explorer the first time. The virtual folders are the blues ones, which makes it easy to tell them apart from actual directories.

Using any metadata attached to files you can create as many virtual folders as you want to easily find files on your computer. You could create virtual folders for clients and one for invoices, but have a client invoices appear in both and reference the same file.

Internet Explorer
During the last couple of years there have not been any real upgrades to Microsoft's popular browser, but this is going to change with the introduction with IE 7. IE 7 introduces the long-anticipated feature of tab-browsing, already present in many competitor's browsers. I do not understand how Microsoft got away with not including this feature for so long, but it is finally here. Microsoft has been pushing security in their products pretty hard, and they plan to do the same for IE7 with the introduction of the "Phishing Filter" aimed to help users avoid malicious websites.

We've got tabs
IE 7 will also include support for RRS feeds, a new printing feature to make pages finally shrink-to-fit on the paper size that they are printed on, and also a version of IE 7 that contains no add-in support. The IE with no add-on support can be used when IE has been hijacked by malicious software and you can no longer use the regular version on your computer.
As I said at the beginning of this article, this is just a very quick look at some of what Vista has to offer. There is a lot more to see and I am sure that there will be quite a few changes before the final version is released later next year. Keep an eye out on Random Access for more Vista information during the coming year.