My desktop publishing friends still wax nostalgic about the old Radius Pivot CRT display hooked up to their Mac IIsi that could rotate from landscape to portrait mode. It allowed them to see the whole page at once which kept them from scrolling constantly (those were the days before mice with scroll wheels). Now that LCD monitors are the standard display type, they are getting the rotational treatment as well.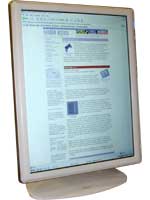 Daewoo 17" L750DP LCD
in portrait mode

Daewoo's 17" L750DP and 19" L950DP LCDs rotate 90-degrees and include Pivot Pro software to rotate your Windows desktop. No software is included for Macs but we tested the 17" model with a Mac mini and the rotate options were built into the Display Preferences. Both models sport a stylish white and silver frame and include VGA and DVI-D connectors. Though the cables just hang off the back of the display without any cable management included. Other features include built-in speakers, vertical tilt, and a full range of adjustment options. All this and it only costs a few bucks more than an LCD that is stuck in landscape mode. Suitable for the home, office, or anyone who wants to make long pages easier to look at.

• Get Random Access

• Understanding Tech

• Print this article

• Shop Online