With a variety of advanced security products available on the market, building your own home surveillance system is simple and affordable. From wireless microcams to outdoor night vision cameras, there is an array of video equipment developed for surveillance, child care and environmental observation. I found that, installing a home security system takes no time at all—just a few hours and some basic tools.


Bulldog Camera

PC DVR- 4-Net PCI Card
For my own security system project, I tested some new products by Swann Communications. I started with an exterior camera, the Bulldog camera, on the corner of the house. The Bulldog camera was a good choice for this location not only because of its tough, weatherproof case, but because it transmits high resolution video at a 52° angle. Also, this camera is equipped with 12 infrared lights for night time illumination up to 33 feet. Attached to a 33 foot cable, the Bulldog camera had plenty of cord to run through the house and still be able to connect the composite video input of a TV.
I wanted to monitor the camera through my computer, so I installed the PC DVR- 4-Net PCI Card that has four camera ports and monitoring software. This card can control four cameras simultaneously and one computer can be upgraded to four cards for a total of sixteen camera ports. To operate the PC DVR-4-Net card properly, the computer needs at least a Pentium III processor and GeForce II 32MB video card and Windows XP or 2000. With the hardware ready, I loaded the DVR software, and the program recognized the camera automatically on the first start-up. The DVR software has a user-friendly interface and a host of features to customize each camera such as scheduled recording, motion detection, sensor alarm mode, and multichannel display. In addition, the software has remote viewing options which require a broadband connection and a list of allowed IP addresses. The DVR program has multiple user account set-up with the ability to restrict user access and an advanced search function for video playback.
I experimented with the DVR software while using motion detection capabilities with the camera pointed towards the backyard. The sensitivity control has a wide range of settings and can be adjusted to fit the environment. Because of wildlife and tree movement, I configured the motion detection low and had the camera to record only when motion was detected. I also tried the security alert feature of the DVR software that sends emails to you when the sensor is triggered.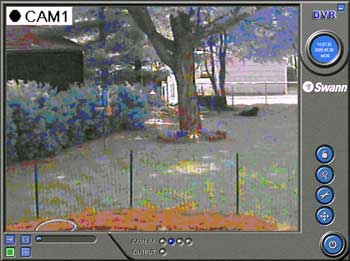 Outdoor shot from the Bulldog camera using Swann's DVR program.


Microcam II 2.4GHz Wireless Camera
For an indoor camera to monitor the entrances, I was looked a camera that was small and could be easily disguised. The Microcam II wireless camera was a perfect solution, because it doesn't require cables and can be hidden anywhere. This camera comes with a 4-channel receiver and runs on a 9-Volt battery. Ranging up to 330 feet, the Microcam operates with a 2.4GHz wireless frequency and can be monitored by a TV or VCR using the receiver. Microcam has a manual lens focus and 62° viewing angle that can cover most of a room.
Using just a couple of cameras and a PCI card, I was able to build a comparable home security system that costs under $500. By integrating my PC, I configured multiple cameras with advanced features without having to pay extra for monitoring fees or installation costs. With Father's Day just around the corner, this is a great idea for an industrious parent.

• Get Random Access

• Understanding Tech

• Print this article

• Shop Online