This month, we have a special guest writer who goes by the name of pz. She begged us to let her write about the PlayStation Portable she got the day they came out.
More than just a game console – it's an entertainment system for your pocket.
Measuring in at just 6.7" (W) x 2.9" (H) x .9" (D), the PSP is Sony's latest offering for the handheld gaming arena. What sets it apart from the rest is it does a whole lot more than play games. Watch movies like Spider-man™ 2 on the proprietary UMD™ drive, listen to digital music in MP3 and Sony's ATRAC (Adaptive TRansform Acoustic Coding) formats, or view JPG photos of your dog – it's up to you. Sony even includes earbuds and a remote control so you can listen to your movie, music or games privately.
The PSP packs a powerful 64-bit MIPS R4000-based processor that runs at 333MHz. With 32MB of main system memory, 4MB of embedded DRAM, a 3D graphics engine combined with a bright and vivid 4.3" 16:9 Wide screen LCD display, graphics look surprisingly lifelike.
Connectivity is a breeze with this handheld powerhouse, offering 802.11b wireless networking for AdHoc (up to 16 consoles, depending on the game) or Infrastructure modes which are currently used for multiplayer gaming and network updates from Sony. Multiplayer gaming over the wireless connection is incredibly addictive – my experience with it in Untold Legends: Brotherhood of the Blade has been more fun than a shared hallucination. I liked that I wasn't tethered to my partner with a cable, as is typical with other handheld game consoles. Game play is smooth and there is no noticeable lag time, even when I go into another room of my house.
Another cool thing about the networking aspect is the possibility of Game Sharing. This will allow the PSP to spawn a copy of a game to another player's PSP and run it in memory as long as the system is powered on. There haven't been any games released in the USA that take advantage of this feature, but I'm sure that we'll see some on the market soon.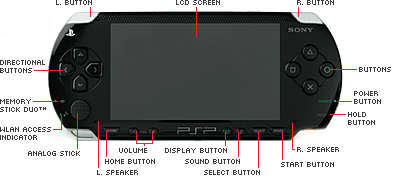 The size of the PSP compared to other handhelds available makes for more comfortable game play for teens and adults. The controls on the PSP are very similar to the PSOne/PS2 game pads, with the addition of a small, circular analog pad positioned for your left thumb just under the directional buttons (it almost looks like a speaker). This analog controller is easy to use and it has a nice non-slip component that keeps your thumb in place during hard-core game play.
A USB 2.0 Mini-B connection lets you connect your PSP to your PC or Mac so you can backup your game saves, load music, images or movies. A quick search on the Internet indicated that there are plenty of free and almost-free utilities available on both PC and Mac platforms that will let you sync up iTunes® playlists with your PSP, create photo albums and more, so the possibilities are almost endless.
Upgrade your PSP memory


512MB Memory Stick Pro Duo
The Memory Stick DUO™ slot rounds out the PSP by giving you bigger storage options, up to 512MB. The PSP comes with a 32MB Memory Stick DUO card, but the slot is also compatible with Memory Stick DUO Pro cards, even though the PSP doesn't take advantage of the higher data transfer speeds. Keep in mind that while 32MB is fine for game saves and a few pictures, you'll want more memory if you plan on listening to music or want to do other things with your PSP. (Make sure your Memory Stick DUO/Pro replacement has the MagicGate™ symbol for compatibility.)
All-in-all, if you're looking for something to appeal to your inner technophile that's sleek, fun, portable and with a lot more options than other handheld consoles – the PSP is your ticket.