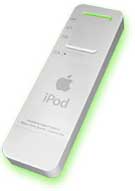 Apple iPod Shuffle 512MB
also available in 1GB

Life is random. That's the marketing behind the newest iPod, the Shuffle. We here at Random Access think it's about time Apple jumped on the random bandwagon. Now that the Shuffle has arrived, you may throw caution to the wind and go with the flow.

When I first un-packed the Shuffle, I was amazed at how small it was. Sure, I'd seen pictures on Apple's website, but until you hold one in your hand, you won't get the full effect. In fact, when I carry it around and let people hold it, the first thing they mention is the size... then they try to pocket it.

The beauty of the design is that you don't need a cable to sync or to charge. It has a USB port under the cap at the bottom. The only drawback is that the case may be too wide to plug in if your USB ports are horizontally side-by-side and you have something already plugged into the other port. If you experience this, and you absolutely cannot disconnect the other USB device, just get yourself a USB extension cable.

The USB connection is built-in under the cap.
Autofill
When you connect the Shuffle to your computer running iTunes, your computer will automatically start to Autofill your Shuffle with a random selection of songs. Autofill is a new feature built into iTunes for the Shuffle, and it's at the heart of the random nature of the Shuffle. You can designate a playlist or your entire library as the source of the random songs. You'll never know what you might hear. The option to "Choose higher rated songs more often" is off by default which is probably a good thing if you haven't taken the time to rate your songs in iTunes. You can also use a Shuffle as a flash memory drive to tote around data from place to place. Just click the options button and define how much memory you want to reserve for data.


Autofill settings
Battery Life
Apple promises 12 hours of life from the built-in rechargeable battery. After 10½ hours of everyday use, the battery indicator went from green (good charge) to yellow (low charge) when pressed. It went to red (very low charge) four hours after that and kept going for 1 hour and 22 minutes more before stopping completely. The Shuffle gave almost 16 hours of use from its battery out of a single charge.
Accessories
The Shuffle comes packaged with white earphones and a lanyard which replaces the USB cap so you can wear the Shuffle stylishly around your neck. The lanyard doesn't do it for me. When I'm running, my Shuffle just flops all over the place. Too bad it doesn't come with the armband that is sold separately. Not to worry, the Shuffle is so small and light sometimes I just put it in a pocket or hang it from the headphone cord.
Who Wants One?
I'm sure that most people had gadget envy when Apple introduced this little gem but it's not for everyone. The iPod Shuffle is not for control freaks that may suddenly want to hear a specific song. Without a display, the only way to get to a song you want is to set the Shuffle to play straight through and keep skipping until you find that song. The Shuffle is also probably not on the wish list of those that have a large mp3 library and want to carry it to parties or a friend's house. It is for anyone that wants to take a bunch of random tunes (and maybe some data too) with them to work, play, school, or workout.

• Get Random Access

• Understanding Tech

• Print this article

• Shop Online