Setting up a home MIDI (Musical Instrument Digital Interface) studio has never been easier or (cheaper) with the myriad of software and hardware available. Composing music has been simplified by the development of an efficient graphical interface used by programs such as Apple's GarageBand. In this two part report, I'll review both the internal and external aspects of constructing a MIDI system.
The main component of a MIDI studio is a Macintosh with at least a G4 processor and 10GB of free disk space. A system running Mac OS X version 10.3, Panther Edition, is best, because Panther already includes some of the needed programs for the setup. Some recommended software and plug-ins needed to get started are:
Apple GarageBand This music creation tool is included as part of the iLife software bundle that comes with new Macs or can be purchased separately for under $50. GarageBand has an orchestra of instruments at your fingertips with its easy-to-use controls. The best part of this program is that it's versatile and can be adapted for either amateur or expert use. Apple has included professionally engineered loops to help construct tracks, plus GarageBand has an extra complementary program, GarageBand Jam Pack 2: Remix Tools with even more custom instruments and controls. A more in depth review of GarageBand will be featured in Part 2 next month.
Audio MIDI Setup This utility is built-in with Mac OS X and is accessible by going to Applications->Utilities->Audio MIDI Setup. It's designed to configure the Mac's audio devices and/or add a MIDI device (like a keyboard). Under the MIDI device tab, equipment connected to the Mac can be added by clicking on the "Add device" icon, then named by double-clicking on the icon to reveal the options menu. From there, details for each device can be defined.
Attaching gear to the Mac is fairly easy with the appropriate hardware. Most major music equipment manufacturers will include, or offer as an accessory, the necessary cables to integrate with a computer system. If not, here is a list of tools to help:
USB MIDISport Uno
The Uno cable works as a converter for the MIDI signals between your computer and electronic keyboard. It runs through the USB port and has both MIDI In and MIDI Out connectors, plus its compact design makes it portable.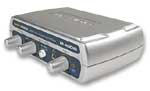 Fast Track USB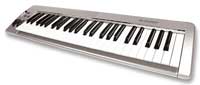 Keystation 49e
Fast Track USB
For multiple connection options, M-Audio has designed this all-in-one solution for linking a bass, guitar, keyboard and microphone to the computer. Fast Track runs on its own software, GT Player Express, to manage sound effects. Compatibility may vary, so check against the instrument's manufacturer specifications.
Keystation 49e
The Keystation is a MIDI-ready instrument with a full-size keyboard. Having a plug-and-play interface, it's a great tool for beginners, and it runs off of the USB connection without needing a separate power supply.
With this base equipment, your MIDI studio should be set for composing. Tune in next month for the how to on GarageBand and learn to make your own custom tracks. Until then, dust off that keyboard or pull that guitar out of the closet and get plugged in.

• Get Random Access

• Understanding Tech

• Print this article

• Shop Online