Simple... Ingenious... Savvy... are just a few words to describe the new Apple iMac. Every time I try the newest Apple product, I am awe-struck by the fresh, clean design and ease-of-use.
The redesigned iMac is no exception. Apple has strategically packed all you need in a two-inch thick monitor. It's the best of what the iMac has to offer, yet without the bulk. The monitor/CPU appears to float on air suspended only by a thin, metal, L-shaped mounting bar with hinged adjustable movement. From the back, all of your ports are aligned to one side, so that the cables flow through a hole in the mounting bar. This is a great feature that helps avoid the dreaded "spider web" effect with all of your peripheral wires.
Like most Mac product lines, you have a choice between three different variations of the iMac.The lower-end version is a 17-inch, 1.6GHz G5 processor stuffed with 256MB SDRAM, NVIDIA GeForce FX 5200 graphics card, 80GB SATA hard drive and a slot-loading Combo Drive (DVD-ROM/CD-RW). The high-end of the iMac spectrum is the 20-inch, 1.8GHz G5 processor, but with the SuperDrive (DVD-R/CD-RW) and 160GB ATA hard drive.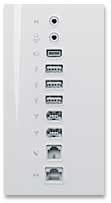 If that's not enough to perk your interest, the new iMac has a parade of ports for all of your peripherals. From the top, it has two Firewire 400, three USB 2.0, VGA output, S-video and composite video outputs as well as a headphone/optical digital audio output with audio line in.
And if your neurons aren't snapping yet, you'll love the software the new iMac is loaded with. Each iMac has Mac OS X 10.3 "Panther" version with Classic 9 included in addition to Mail, iChat, Safari, iSync, iCal and the entire iLife package. Plus, you get Microsoft Office 2004 for Mac Test Drive. My favorite is iTunes which complements my newly purchased 40 GB iPod nicely. You don't need much else, because this iMac is ready to motor right out of the box.
Whether you are in the market for a new computer or looking to upgrade, this computer has it all. So,if you haven't already, put one down on your holiday wish list.

• Get Random Access

• Understanding Tech

• Print this article

• Shop Online