An example of a wireless setup.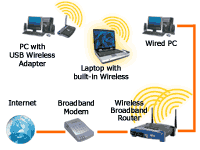 enlarge

Rob: The most often asked question we get about wireless networking is "I have computers in different rooms in my house. How do I connect all of my computers to the Internet?" The easiest way to network computers that aren't physically next to each other is to create a wireless network.

Chris: Many people that have a broadband connection (a cable modem or DSL) want to share their connection with all of their computers. This is probably the most popular application for a wireless network. Also known as Infrastructure networking (see Tech Term) , it allows wireless clients to connect to a wired network and the Internet. This is the typical configuration used for wireless hotspots that can be found in hotels, coffee shops, airports and other locations.

Rob: The main piece of hardware you'll need is a wireless broadband router (pictured at right). This will connect to your cable modem or DSL and will share the connection by routing data to wired as well as wireless connections. Most broadband routers have an Ethernet hub built in, which wired computers (usually desktop computers) near the router can connect to via Ethernet.

Chris: Wireless connections to the router will appear just as if they were connected to the wired LAN connections, allowing you to share resources between the different systems on the Local Area Network, as well as have router access to the Internet or business network.

You will usually find that most routers and access points are factory configured to automatically assign IP addresses to wireless (and wired) clients and will make the network available as soon as a computer is powered on and connected. This makes it very easy to test your wireless connection right out of the box, but keep in mind, if it's easy for you, then it is just as easy for anyone else that might be in range.

Rob: That means that if you do not change your router's default settings, you'd be leaving your network open to the whole world. How do we get the router configured?

Chris: The first step with your new wireless router will be to connect a system and configure its settings. To do this, you will need a PC with an Ethernet port. The following steps are for Windows XP, but should be similar for other versions of Microsoft Windows. For other operating systems such as Linux, Linspire or MacOS, check your help screens or documentation files for configuring a network.
Connect the cable modem or DSL modem to the router using an Ethernet cable from the modem to the WAN or Internet port on the router — plug in the power for the router too.
Connect a PC to one of the Ethernet ports on the router.
On your PC, right-click My Network Places and select Properties to open your Network Connections.
Right click on the (wired) local area network adapter and select Properties.
Select TCP/IP from the list and click on Properties. This should be set to "Obtain an IP address automatically" since the router should be factory configured to provide one.
Once this has been done, exit back to Network Connections and save any changes.
In the Network connections window, double click on your network connection to display the status.
In the Connection status list, you should see that you adapter has been assigned an IP address and gateway by the router. The Gateway address should be the address of your wireless router; it is this IP address you will use to check or change the router settings.
Rob: Now that we're connected to the router, open your web browser to your router's IP address (usually http://192.168.1.1) so we can change your router's SSID name and set a password.
Chris: Most of the other settings will not need to be changed until you are ready to start implementing security features on your network. I don't recommend activating WEP, WPA or MAC address security features until you have successfully connected to your network. Once you know all your hardware works together, then you can turn on these features one at a time, making sure that the clients can continue to communicate at each step.
Wireless clients can see the SSID of all available networks within signal range.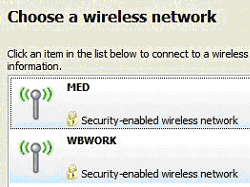 enlarge
Rob: The SSID (or service set identifier) is the name of your network that your wireless computers will be connecting to. You should change this because as more people set up wireless networks (perhaps your neighbor or the business next door), the probability of two networks overlapping becomes more likely and you'll run into trouble if both networks have the same name. You should change your SSID for security reasons as well.
Chris: The router menus will vary from manufacturer to manufacturer. Look for a selection of "Wireless" that will contain all of the wireless settings. There will be a place to change the default SSID, change it to anything that will be easy to remember and fairly unique.
Rob: While you're in the router settings, find the place to change the user name and password. You'll sleep better at night.
Selecting an unsecured network name from the available list under Windows XP SP2.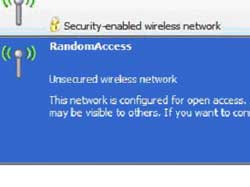 enlarge
Chris: The next step will be to configure your client system to connect to the wireless router. With Windows XP managing the connections, this should occur as soon as the hardware drivers for the wireless adapter have been loaded. Your alternative to having Windows manage the wireless network is to use the software that comes with the adapter. If you are using a notebook with built-in wireless, you may not have this option. If you have Windows XP Service Pack 2 (SP2) installed, an enhanced Wireless Networking wizard is available and can be easily accessed from a number of locations including the Wireless Network icon in the Windows status bar, the Windows Control Panel, as well as the network adapter properties for your adapter in Network Connections. With SP2 installed, choosing to "View Available Wireless Networks" opens the Wireless Network Connection wizard. This should show all available networks in the range of your system. To connect to your router, you should have to do little more than select the Network SSID from the list and click on "Connect".
Rob: Since we have not enabled any security on the router yet, you will probably get a message box warning you that this network is not secure. If it all works as it should, you will be connected to your wireless router and to any wired network that it is connected to. You have also succeeded in creating a completely unsecured wireless connection, exposing your local network and/or Internet to anyone within wireless range... (next month, we'll help you secure your network)