Gigabyte

Gigabyte GA-H270-Gaming 3 LGA 1151 ATX Intel Motherboard
Save $30 when bundled with a compatible eligible processor
Available for In-Store Pickup Only.

Overview
GIGABYTE's 200 series motherboards boast the most advanced LED system in the market today. With more customizability than ever and a convenient and intuitive UI thanks to the RGB Fusion App, youll have a blast making your GIGABYTE your own. LED enthusiasts now have even more options with the ability to customize multiple zones independently. For a more functional use, the bright and vibrant LEDs can be configured to display the PCs temperature or load. For even more LED goodness RGBW strips are now supported for more true and vibrant whites.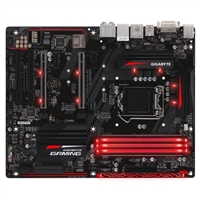 Gigabyte GA-H270-Gaming 3 LGA 1151 ATX Intel Motherboard
Available for In-Store Pickup Only.