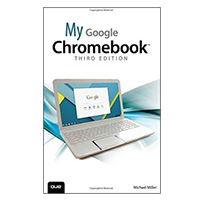 Pearson/Macmillan Books

Pearson/Macmillan Books My Google Chromebook (3rd Edition)
Available for In-Store Pickup Only.

Overview
Step-by-step instructions with callouts to Google Chromebook photos that show you exactly what to do. Help when you run into Chromebook problems or limitations. Tips and Notes to help you get the most from your Chromebook. Full-color, step-by-step tasks walk you through doing exactly what you want with Google Apps.