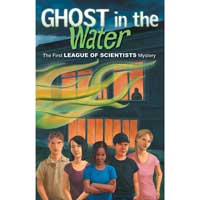 Science Naturally

Science Naturally League of Scientists: Ghost in the Water
Available for In-Store Pickup Only.

Overview
Is a ghost haunting the middle school pool? Sixth-grader John Hawkins feels all alone until his interest in robotics lands him an invitation to join four of his classmates in a secret group. John, and his new friends, Malena, Hector, Natsumi and Kimmey, pool their knowledge of biology, technology, logic, and chemistry to unravel mysteries that haunt their quiet town. Can they expel the ghost in time for the competition against their cross-town rivals? A mystery novel with a side order of the supernatural. Science, science fiction and mystery enthusiasts will be on the edge of their seats. Extensive Teacher's Guide available. Age 10-14.