Antec

Antec XL Microfiber Cloth
Overview
A touchscreen device is only the latest and greatest when it looks fresh out of the box. With daily use, products such as tablets, smartphones and gaming and media devices accumulate fingerprints and debris, making their displays difficult to read. Introducing the Antec XL Microfiber Cleaning Cloth, a delicate but practical solution for keeping your touchscreen shiny and clear. This 300 mm x 300 mm polishing cloth is designed to wipe smudges off your screen without the use of any cleaning solutions. Created with the Antec Quality of our cases, power supplies and other products, the XL Microfiber Cleaning Cloth keeps your touchscreen looking its best.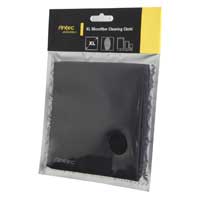 Antec XL Microfiber Cloth
Usually ships in 1-3 business days.