Overview
Your gaming is not the same with the MSI R9 280X GAMING Graphics Card. Based on the AMD Radeon R9 280X GPU, this card is built around 2048 stream processors, with 3GB/384bit GDDR5 memory clocked at an incredible 6000MHz effective memory frequency. With the new Microsoft DirectX 11.2 support, it produces amazingly beautiful graphics and lifelike environmental interaction in your games. Moreover, games enabled with the optimized Mantle speak the language of GCN architecture to unlock revolutionary performance and image quality. The MSI-exclusive Afterburner utility enables you to extract more performance by tuning vital GPU parameters. Military class components, with an advanced Twin Froza IV thermal design, allow you to game with full confidence. An array of advanced AMD technology including AMD Eyefinity, AMD HD3D, and AMD CrossFire offers you more than one way to elevate your gaming experience.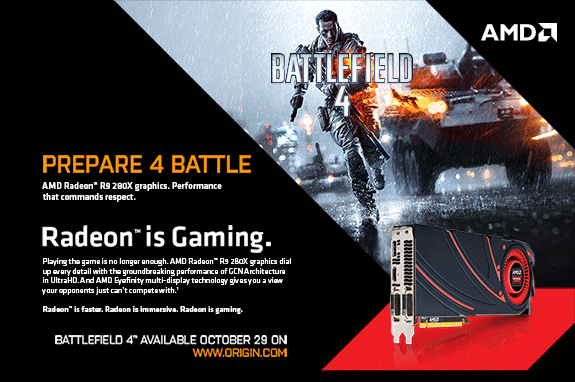 AMD Radeon™ R9 280X and R9 280 graphics. Performance that commands respect.
Playing the game is no longer enough. AMD Radeon™ R9 280X and R9 280 graphics dial up every detail with the groundbreaking performance of GCN Architecture in UltraHD. And AMD Eyefinity multi-display technology gives you a view your opponents just can't compete with.
Radeon™ is faster. Radeon is immersive. Radeon is gaming.
• Graphics Core Next (GCN) Architecture - Groundbreaking performance for the latest DirectX® 11.2 games
• Mantle - Raise your game to unprecedented levels with hyper-efficient performance
• Ultra Resolution Gaming - Leave HD in the dust with 4K gaming resolutions and see more of the game than anyone else with AMD Eyefinity technology
See why Radeon is gaming at amd.com/R9.
Offer good through May 31, 2014. Product availability varies by store.



AMD Eyefinity technology supports multiple DisplayPort monitors on an enabled graphics card. Supported display quantity, type and resolution vary by model and board design; confirm specifications with manufacturer before purchase. To enable more than two displays, or multiple displays from a single output, additional hardware such as DisplayPort™-ready monitors or DisplayPort 1.2 MST-enabled hubs may be required. A maximum of two active adapters is recommended for consumer systems. See www.amd.com/eyefinityfaq for full details.

Application support for Mantle is required

Requires 4K display and content. Supported resolution varies by GPU model and board design; confirm specifications with manufacturer before purchase.

© Battlefield 4 Images and logos ©2013 Electronic Arts Inc. Battlefield, Battlefield 4 and the DICE logo are trademarks of EA Digital Illusions CE AB.