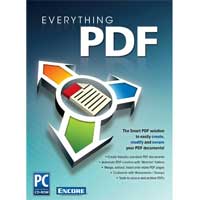 Encore Software

Encore Software Everything PDF (PC)
Available for In-Store Pickup Only.

Overview
Everything PDF provides intuitive, interactive and impressive conversion to a PDF format with complete control over the final output. With customizable profiles, you can control how documents are processed. Whether you are using Everything PDF to automatically 'stamp' invoices as 'Paid', batch-processing document archiving as PDFs, or creating PDFs of your graphic designs; Everything PDF will make your conversions easy.