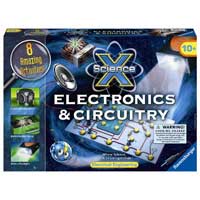 Ravensburger

Ravensburger Electronics & Circuitry
Available for In-Store Pickup Only.

Overview
Make an alarm to protect your things. Construct a loudspeaker for your music. Assemble a reading lamp and a flashlight. Create and send Morse code messages from your own unit. Become an electrical engineer and build eight awesome gadgets that really work!