Overview
Link wirelessly from external storage devices to your tablets, smart phones, and smart TVs. The wide possibility with wireless connection.
Access Your Files Wirelessly
SAMSUNG optical SmartHub enables you to access your files wirelessly – wherever you are. No need to transfer files to your tablets and smartphones using your PC. Simply plug your USB storage into the SAMSUNG optical SmartHub and instantly access files from your tablets and smartphones wirelessly.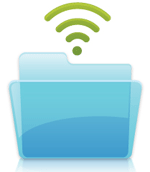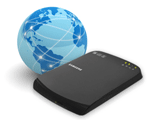 Always Be Connected
SAMSUNG optical SmartHub allows your tablets and smartphones to always have internet accessibility—even while streaming data such as music, movies, photos, etc.
Streaming Content Made Easy
Streaming content on your SAMUNG optical SmartHub has never been easier. With the Samsung optical SmartHub, users can wirelessly upload and download files from tablets and smartphones to USB storage or CD/DVD discs.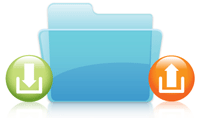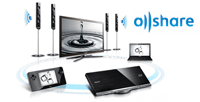 Enjoy Allshare
The Allshare application can be used on your SAMSUNG Smart TV, tablets, and smartphones. Allshare allows you to enjoy wirelessly all of your stored content from your SAMSUNG optical SmartHub.
Your Favorite DVD Movies & Music CDs
Enjoy wireless access for viewing your favorite DVDs and listening to your CDs on your tablets and smartphones.
The "mobile SmartHub" application can be downloaded from the Appstore, Android Market, and Amazon.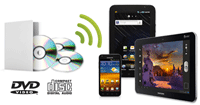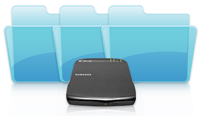 Simple File Management
Easily manage stored files from your tablets, smartphones, and PCs. Simply move, rename, copy, paste, or delete your files in any connected storage and do it wirelessly. Your SAMUNG optical SmartHub acts as additional network storage.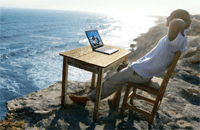 On-the-Go Remote Access
Access files connected to your SAMSUNG optical SmartHub wirelessly via the web. Visit www.dyndns.com and locate your SAMSUNG optical SmartHub.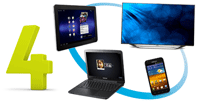 Connect 4 Devices Simultaneously
Your SAMSUNG optical SmartHub supports four devices at a same time. Whether you are watching a DVD, or listening to a CD, two devices can play two different tracks on the same discs simultaneously.
Find and install the free app, "Mobile SmartHub" on your smartphones and tablets.