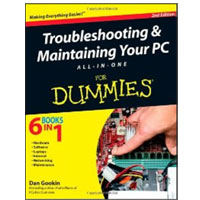 Wiley

Wiley Troubleshooting and Maintaining Your PC All-in-One For Dummies, 2nd Edition
Available for In-Store Pickup Only.

Overview
Diagnose and solve your PC problems with this easy-to-understand guide. Written by veteran For Dummies author Dan Gookin, this straightforward guide shows you how to diagnose and solve the most common hardware and software problems your PC may encounter. In addition, he presents advice for preventing PC problems in the first place and clearly explains how to create a safe and secure PC environment.