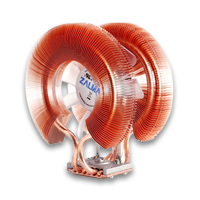 Zalman

Zalman CNPS9900LED Universal CPU Cooler
Available for In-Store Pickup Only.

Overview
This latest CPU Cooler awarded Design and Engineering Show case from CES 2009 for its awesome performance (6-7 degrees better than its predecessor) with its evolved heatpiped design. Also It comes with latest socket support for LGA 1366. With CNPS9900 LED you can enjoy full bandwidth of latest Nehelem CPU. Please note that we strongly suggest users to take the shroud away from the cooler when it is installed for better performance with less noise.